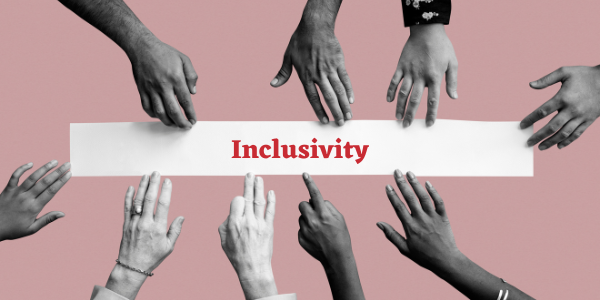 Competition is rising in every space, making long-term loyalty for a particular brand difficult. With digitization, information and products are easily accessible, and people are now more conscious of their rights and expectations from brands. Creating a positive brand image requires inclusion and diversity. Every company has a presence on some or the other media platforms, and people of various diversities use social media. When a company enters a social media platform, it must realize that people of different ages, caste, religions, sexual orientation, or disabilities are part of that platform, and a single wrong message here can lead to criticism. Social media posts, whether it be images, videos or texts, should be inclusive, providing equal importance and experience to everyone. Hence, no one will be left out of your online discussions.
While aiming at reaching a large audience, marketing strategies should focus not just on creative advertisement but on creating ads representing different social groups. Viewers do not usually want access to content but they want to see themselves represented in it. Implementing inclusivity in strategies makes customers believe that the company cares for them. While there is no legal requirement to show inclusivity but when performed, it shows that the company is ethical and can be trusted, thus creating long-term loyalty. And people prefer to buy from brands they can connect with, and inclusive content makes consumers feel like they can feel their presence in your message. This drives customer purchases and enhances the company's market value.
Register for AMCAT | India's Leading Fresher's Assessment And Job Site (myamcat.com)
At the time of creating a social media strategy for inclusion, the first step should be the identification of demographics which is not already part of the customer group, and then comes creating the content to attract that group. But a company also needs to be truthful to itself and should not indulge in communicating on a diverse topic that it does not even support. Marketing strategists should avoid hypocrisy and share something only when they support its cause.
Along with truthfulness, commitment is imperative for a successful inclusive strategy. While social media is essential to communicate values, it cannot be solely relied upon to achieve inclusion in the workplace. Viewers are smart enough to see through media posts what a company is actually doing in its commitment to support diversity. This calls for hiring people of different diversities across various departments and geographical regions and supporting already hired people.
Always take feedback to know if you are on the right track by letting people from different diversities give your review on inclusivity. Social media can provide live feedback through comments and messages. Everyone cannot always get it right the first time but listening to the audience and self-reflection can fix the shortcoming.
Inclusivity in the workplace in the future. Companies that do not focus on inclusion and diversity will suffer long-term. Without diversity, customers cannot connect with the company, which will ultimately lead to declining customer market share and revenue.