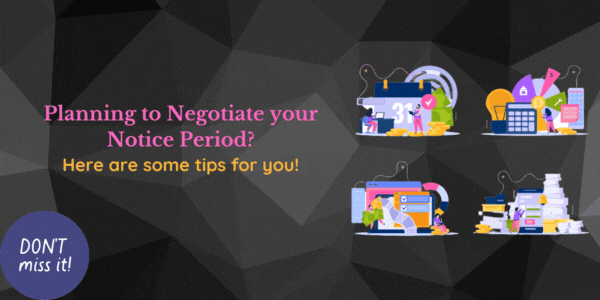 Now that you've finally received an offer after appearing for several job interviews. Serving a notice period for a minimum of one, two, or three months is another hurdle, which you have to get through before you start working with the new employer. It goes without saying that you would want to negotiate this three months notice period so that you can join the new organization at the earliest. Obviously, your new company would want you to start as soon as possible, and 45 days might be the longest they will be willing to wait.
Now that you've been given an opportunity to start a fantastic new job. But we are sure that you don't want to spoil your relationship with your current employer. Is there a way to resign from your current job after serving notice without making a mess? If you want to know how? Read on.
Build a personal rapport with your manager
Always remember, it will be easier for you especially at the time when you plan on making a switch if you'll start building a personal rapport with your manager right from the beginning once you join an organization. This can be highly beneficial for your overall career growth. Since it also helps you in establishing a trustworthy relationship with your manager. However, the only red flag to this is that building a personal rapport with your manager does not happen overnight. The best mantra is to work towards it right from the beginning of your association with the company and manager.
Know your contract well
At the time of giving an interview, the most common question is about the duration of your notice period, so try to not make any false promises which they might not be able to keep. Also, keep in mind if you have committed for a notice period, and then even if you won't be able to join the new organization, then this won't be good on your part. Being honest is always the best policy.
Register for AMCAT | India's Leading Fresher's Assessment And Job Site (myamcat.com)
Offer help to your manager to find your replacement
Any manager would not want to lose a valued employee or you have asked for an early release date at the time of resignation, in either of the case it's obvious that your current employer will come under a lot of stress, especially in finding a replacement. Time and cost will play an important role in this situation, so keep in mind that anything you do to help will be for your own benefit.
Do not miss any chance to assist in finding a suitable replacement and utilize your network well and reach out to any recruitment agencies you may have worked with to assist with this. Keep your manager in the loop about your progress, about finding a suitable replacement, and transfer your knowledge related to your job as soon as possible.
Communicate clearly, regarding your last working day
Do not make any mistake at the time of communicating the release date, since this is most important for both i.e., your current & future employer. Always, make sure that your resignation letter clearly specifies the desired release date or last working date. It's necessary to keep your manager informed that you want to leave the company earlier than what your notice period demands.
Therefore, clear communication is needed from the day you inform your manager about your exit plans or send your resignation email so that they can start looking for a replacement accordingly.
So let us conclude here, these are the steps on how you can negotiate your notice period! Do follow them, if you want a smooth exit and are looking forward to starting your journey in the new company.