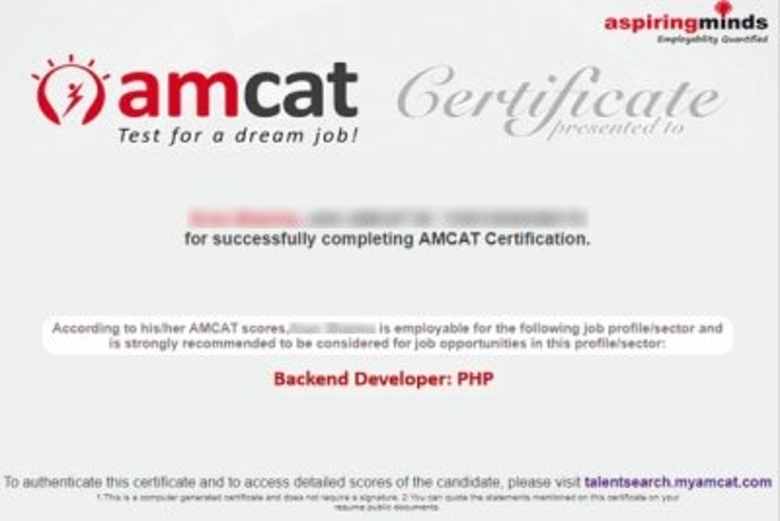 AMCAT Certificates are an excellent means to get certified in specific job skills that can help you get fresher jobs. These certificates are provided by Aspiring Minds and are industry-recognised, covering a lot of trending and cutting-edge technologies.
These AMCAT Certificates are beneficial because –
They offer a proof of your employability in tech skills
They are industry-recognised and accepted by hundreds of companies
You can add them to your resume and showcase it on LinkedIn
You get a score plus feedback about your strong and weak areas in the subject
It is affordable and you can even pay for it with your pocket money!
The AMCAT certificates can go hand-in-hand with your AMCAT exam score in proving your employability to your future recruiter. They will add value to your resume immensely and while there are many AMCAT certificates for various fields, here are some of the important AMCAT certifications if you are looking for tech fresher jobs –
Software Quality Assurance Engineer – Software QA is a popular job and they oversee the entire Software testing process from start to end. This role offers more opportunities and also pays higher than regular testing jobs. AMCAT certificates for this skill can help you land a job in any of the major IT companies. You will need to understand the entire process of bug tracking, ticketing and testing to perform well in this AMCAT certification.
Web Developer: Java – A Web Developer is essentially a programmer who creates applications for the internet that are run via HTTP. The Web Developer Java certification is amongst the most popular AMCAT certificates because it allows students to get fresher jobs in multiple companies including upcoming start-ups that need this expertise. This certification will indicate your expertise in Java to your recruiters.
Mobile App Developer: Android – With over hundreds of mobile apps being created every year in India on Android there is a constant need of developers. This is amongst the highest rated AMCAT certificates and has helped students get job opportunities in several companies. You will need to understand the various rules of Android and how to implement them to ace in this certification.
Big Data Developer – A big data developer is one of the hottest jobs in 2018 and will continue to be so. There are very ways for recruiters to assess your skills prior to selection and hence AMCAT certificates are very valuable. There are four different combos in which AMCAT certificates for Big Data Developers are offered in – HBASE+Pig, MongoDB+Pig, HBase+Hive, and MongoDB + Hive. You really need to be aware of the general Big Data industry, the ecosystem and the platforms to gain expertise and pass these AMCAT certificates.
Back End Developer – A Back end developer job is an evergreen job and requires programmers who create the back end of the website or software. You will find three different combinations of AMCAT Certificates for back end developers – Java+Oracle, Java+MySQL, and PHP. While you may have studied these technologies on your own or college or even a private institute, the AMCAT certification will help you provide proof and validity to your claim. Recruiters will trust the AMCAT certificate and are likely to forward your interview process.
Full Stack Developer – A Full stack developer is a complete process engineer and can handle databases, servers, systems engineering, and even clients. Most of the time these are not fresher jobs, however, you can be prepared for them and apply for jobs once you achieve mastery in your current job. AMCAT certificates for full stack developers are available in two variants – Java and PHP.
Excited about what these AMCAT certificates can do for your career? Read more about them and sign up for them immediately to open up new avenues in your growing tech career.