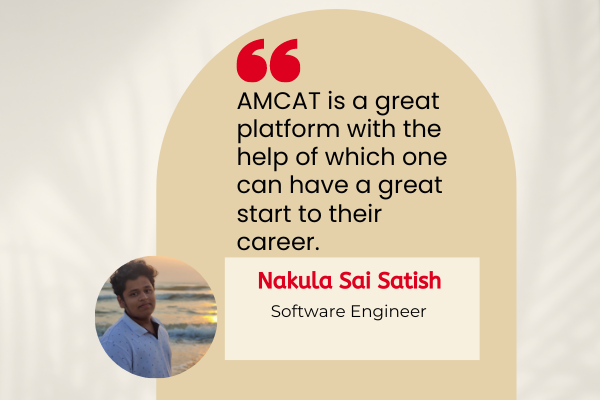 One of the best and most successful decisions in my life has been giving the AMCAT exam since it helped me in understanding and choose the best career path for me. I got the best opportunity right after I completed my graduation, and for that, I'm thankful for the entire process which was very smooth and efficient.
Do you want to know more about his success story? Continue reading the article to find out more about the same.
Tell us about your job role and the company where you got placed with the help of AMCAT?
"I got placed in Integra Solutions as a Software Engineer, with the help of AMCAT."
What were your focus points when you started your job search?
Satish said, he chose AMCAT because of the bigger companies, higher salaries, suitable job profiles, and convenient job locations.
Register for AMCAT | India's Leading Fresher's Assessment And Job Site (myamcat.com)
How did AMCAT help you in getting this job?
"AMCAT is such a helpful platform using which one can kick off their career in the way they wanted to. A great foundation has been laid for me in order to turn my dreams into reality, though it is a starting stage a way has been paved out for me so I can reach my dreams seamlessly."
While looking for a job, what all difficulties did you face? Please elaborate.
"I kept applying for many companies but they were rejecting my application but when I went through AMCAT my application got shortlisted and I got the job. Said Satish"
What role did the AMCAT feedback report play in the process?
"The AMCAT feedback report was great and helped me throughout in finding the right job."
Would you recommend AMCAT to others? Also, can you mention 3 main points that you liked about AMCAT?
"Of course, I will recommend AMCAT to others, concluded Satish"
"The things which I liked about AMCAT are:
There were many companies in AMCAT
One can easily get shortlisted based upon their performance "
Please feel free to contact us if you have any questions.
We Wish Nothing But The Best For You!