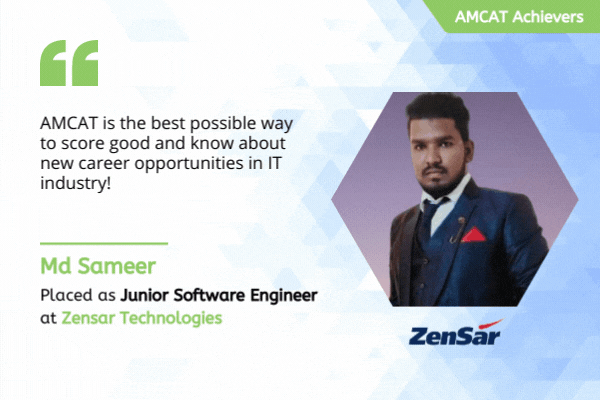 One of our applicants, Md Sameer, shared his experience of using AMCAT to find his first job. He mentioned how the exam benefited him in finding a suitable job.  We've included the entire discussion with Sameer, in which he addressed the difficulties he experienced and the support he received from AMCAT.
Sameer was adamant about his career choices, and he had complete faith in AMCAT. Are you interested in learning more about his journey? Then continue reading to learn more about it.
What made you choose AMCAT over other options?
"AMCAT is the best platform to score good and explore opportunities in IT industry," told Sameer.
Did you have any issues while hunting for work? Please provide details.
"I did face some difficulty while looking for jobs, but AMCAT made my difficulty easy through its test platform."
Tell us about the job you acquired through AMCAT, as well as other employment offers and interview calls?
"Through AMCAT test I have been placed in one of the IT companies named Zensar Technologies, as Junior Software Engineer," said Sameer.
Would you tell others about AMCAT?
Yes, I'll definitely recommend AMCAT to others."
Why do you think AMCAT is a good idea?
"I think it's the best platform to showcase our skills and explore in the IT industry," concluded Sameer.
If you have any queries, feel free to get in touch with us.
We Wish You All The Best!