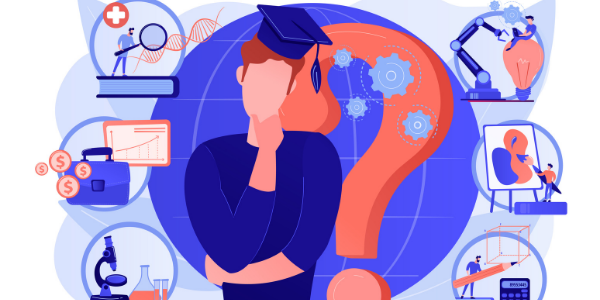 How to choose a career? This sounds like a simple question but, it is one of the toughest to answer, and everyone faces a challenge with this.
With so many options out there, how will you choose a career that's right for you? If you don't have any idea what you want to do, then it may seem impossible to you. But it isn't it can be simple and easy if the right approach is followed. Try to follow an organized process and that will increase your chances of making a good decision. Making the right career choice is crucial for everyone. But with so many options out there, it may seem a little tricky to find the right fit.
Why is it significant to know how to choose a career?
In today's time, everyone looks for a great job to begin their professional journey, the reality is that it in order to build a strong career it takes a lot more than finding a job that pays you well. One thing which everyone needs to understand is that a job maybe a steppingstone towards what you wish to achieve, but it can't be something that can build up your career.
It is of utmost importance to know how to choose a career as it helps you in multiple ways. As soon as your career choice is sorted, you can – work in the fields in which you are interested, sharpen your skills, and use them appropriately, never get bored of what you do, and have clear direction and goals for your professional growth.
Let us now talk about the main thing how to choose a career and make it easy and understandable for everyone.
Assess Your Areas Of Interest
Picking a career where your interest lies can be the best choice for you. It does not only help you in focusing better, but it also keeps you interested in it. But, in order to find your actual area of interest, you can – take personality and aptitude test on AMCAT, talk to your seniors and mentors for support, list down all your hobbies and figure out the ones which may have a promising career.
Make A List Of Opportunities Of Your Interest
Some people get a clarity on what they want to do with their careers, but many people struggle in making the right choice. If you are unsure about choosing a career and interested in many things, then here are the things which you can do – make a list of all your hobbies and interests, then identify the one which matches with your skills and education, and read up about them to have a better clarity in terms of if it is the right pick for you or not.
Make A List Of Suitable Positions
How to choose the right career, is a bit difficult to answer specially when career choices not just involve finding the field of interest but also determining the job roles that appeal to you. Before proceeding, make a list of all the roles which you can explore in the shortlisted field. After that, identify which one will be the ideal fit for you, based on your skills, interest, and qualification.
Ask Yourself
The best way to be sure that you have chosen the right career is by asking yourself the right questions. Some of the self-testing questions are:
Will you get job satisfaction in this field?
Do you think, your career choice matches with your skills and interests?
What could be the challenges I could face?
The right answer to how to make a career choice can be found by doing a lot of research. But with a little effort, we are sure you can make the career choice that is right for you by registering on AMCAT.