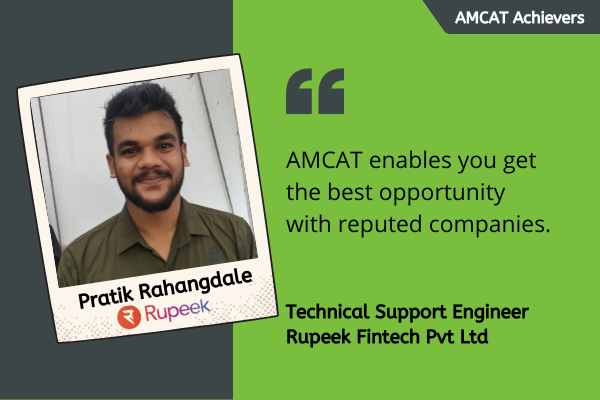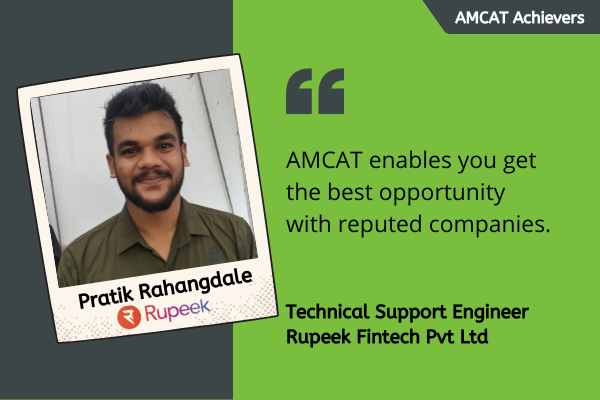 Pratik told us that one of his best personal decisions, especially in terms of his professional career, was to take AMCAT. I was able to obtain an excellent opportunity right after my graduation all thanks to the entire process which was highly effective. Pratik planned on opting for AMCAT because being a fresher, one needs to explore a lot more before entering the corporate world in order to achieve their goals and a dream job.
Pratik was excited about his career decisions and had complete faith in AMCAT. Do you want to know more about his journey? Continue reading to find out more about it.
Pratik, please tell us why did you opt for AMCAT?
Pratik told us that he opted for AMCAT, to find and get relevant job profiles.
Tell us about the job you got through the exam?
"I got placed in Rupeek Fintech Pvt. Ltd. as a Technical Support Engineer with the help of AMCAT."
Register for AMCAT | India's Leading Fresher's Assessment And Job Site (myamcat.com)
How did AMCAT help you in getting a job?
Pratik explained, "I was looking for a job in IT and Finance sector and Rupeek Fintech was the perfect match which I got with the help of AMCAT."
While looking for a job, what all difficulties did you face? Please elaborate.
"Luckily, I did not face any difficulty during the entire process, said Pratik"
How did the AMCAT feedback report help you assess your performance?
"The AMCAT feedback report helped me throughout in finding the right job."
Would you recommend AMCAT to others? Also, can you mention 3 main points that you liked about AMCAT?
"Of course, I will recommend AMCAT to others, concluded Pratik"
"The things which I liked about AMCAT are:
Test is great
The jobs suggested by the portal.
You get an opportunity of giving the interview directly."
Please feel free to contact us if you have any questions.
We Wish Nothing But The Best For You!