As Aspiring Minds launches the third edition of the AMCA Program (Aspiring Minds Campus Ambassador Program) for the year 2013-14, heres an exciting and challenging opportunity to strengthen your leadership skills by becoming the AMCA of your college.
Aspiring Minds conducts Indias largest Employability test- AMCAT in more than 23 states across 3000+ campuses. More than 15,000 students have been able to secure their first jobs through AMCAT this year. These students have been recruited by several reputed multinational corporations like HCL Technologies, Microsoft Research and Genpact to name a few.
Aspiring Minds had launched the first edition of AMCA Program in April 2011. Students from more than 500 colleges had applied in this program to represent Aspiring Minds at their colleges. Of these, around 140 students finally made it to the prestigious post of AMCA for the year 2011-12. In the second edition of AMCA Program (2012-13), over 2000 students participated and around 204 students were appointed as AMCA of their college. At the end of the program, the meritorious AMCAs were duly rewarded on the basis of their performance. This year, it is going to be bigger and better filled with more energy and enthusiasm!!
Some pictures of last year's winners and awards: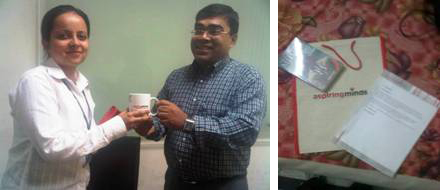 The AMCA program aims at selecting pre-final year students, passing out in 2014, who would act as the focal point of Aspiring Minds among the student community in their colleges and help their batch-mates get better jobs. The program details are here: https://myamcat.com/amca/Ambassador_Program_Outline.pdf
A quick peek at the rewards/benefits up for grab:
A good performance would earn a Letter of Appreciation – a valuable differentiator in your resume.
Free AMCAT registration
Free career counseling
Free Aspiring Minds goodies like T-shirts etc.
Nation-wide 'Best AMCA' Award
Region-wise 'Best AMCA' Award
'AMCA Special Awards' to exceptional performers.
5 Top performing AMCAs get an interview opportunity for the post of Management trainee at AM
You can fill up the registration form here: https://www.myamcat.com/amca/registerAMCA.php
Go ahead and apply now!!
Wish you good luck. Do Like us on Facebook at https://www.facebook.com/myamcat
And follow us on Google+ at https://plus.google.com/+amcat