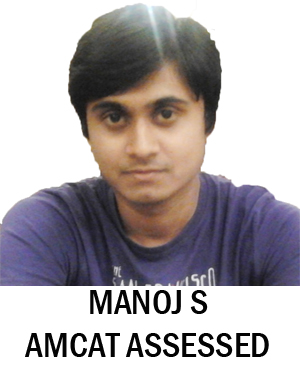 Aspiring Minds: Tell us something about yourself and your career goals.
Manoj: My name is Manoj. I have completed my B.Tech from BITM, Bellary (ECE Department) and now I am working with Granite River Labs. My goal in life is to provide quality solutions to engineering problems and to help mankind to adopt new technologies as we head to the future.
Aspiring Minds: What difficulties did you face while searching for a job and how did you overcame those difficulties? 
Manoj: Well I had to travel a lot, uploaded my resume in innumerable websites, blog spots and career centers but ultimately got placed through AMCAT
Aspiring Minds: Tell us about your experience post giving the AMCAT test and how AMCAT helped you in getting the job at Granite River Labs?
Manoj: AMCAT is a great portal which tunnels the engineering students to their compatible work spaces where they can be productive. The AMCAT scores and percentile is a great paradigm of choosing the right job for the right student.
Aspiring Minds: Would you suggest other job seekers to take AMCAT? If yes, why
Manoj: Straight up YES, because the AMCAT faculty is efficient in their conduction, evaluation and selection.
Aspiring Minds: Would you like to share some tips which can help other job seekers in getting a good job?
Manoj: Getting a right job (rather than good job) isn't that difficult as it looks. You just need to believe in yourself and give out your best. Never give up learning, have faith that you will get the right job to lead your future.
Manoj S, BITM, Bellary, 2013 Batch
Hired by Granite River Labs