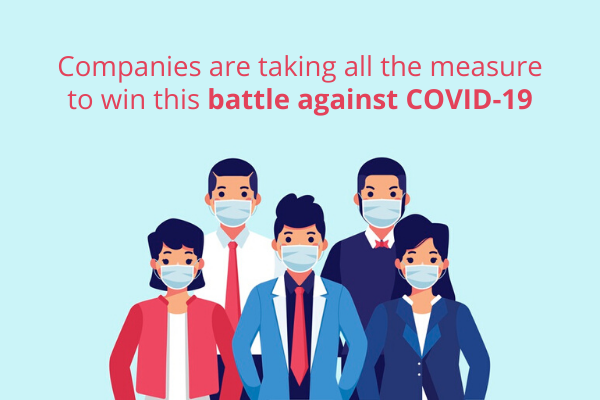 In India, the continues spread of COVID-19 pandemic has disrupted the day to day lives and businesses. However, for the companies, the wellbeing of their employees is their top priority. All the managers and HR leaders are doing everything to save their human capital and the safety and health of the employees is the need of the hour.
Companies have come up with novel ideas such as psychological counselling, online meditation, dedicated 'work for home' hours to do household chores and more to keep their employees motivated.
Here are something of the things that companies are doing to fight COVID-19.
Work from home
Companies have gone out of their ways to not only tackle this growing health crisis but also to keep their business going. Almost all the companies are operating from home. They are using video platforms like Skype and Zoom to keep in touch with their employees throughout these trying times.
Some of the companies are still churning out profits. Streaming companies like Netflix, Hotstar, Amazon Prime and more are releasing a variety of shows to keep their audiences engaged. This spike in their demand has increased their profit.
Ongoing Recruitment 
Although some companies have stopped their recruitment until the end of April/May, others are taking the help of virtual gadgets like WhatsApp, Skype, Hangout and more to stay in touch with the candidates. Many of these companies are using AMCAT score to shortlist candidates for the next round of the hiring process. So, if you don't have an AMCAT score, then you can book the AMCAT exam and give it from the safety of their homes.
So, don't stop your job search because of COVID-19 and use this time to build your resume. In addition, sharpen your skillset to make your job search a success.
Free Certifications
Many people are using this time to take up online courses and gain certifications in relevant fields. Doing this will help you hone your exciting skill set and learn new things. Keeping that in mind, companies like Oracle and TCS are giving some of their top certifications for free. So, try to make the most out of this and develop your skillset.
Companies all over the nation are doing everything to safeguard their employees and businesses. Therefore, it is better not to stop your job search because of COVID-19 and see this lockdown as an opportunity to improve your skills and abilities to make your job search a success.
So, do your best and kickstart your career.
Best of luck!