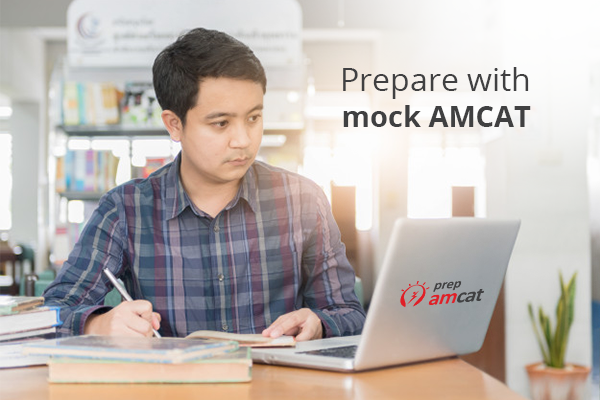 If you're reading this, you've probably signed up for the amcat exam in the hope of landing the job of your dreams eventually.
Not to prick the bubble but it isn't very easy to secure a good amcat score because, frankly, it isn't one of those easy college exams.
To score well in amcat exam you must begin your amcat preparations within the right time and from the right sources. More often than not you will find students struggling to find the right study material for the amcat exam. This is because there is a lot of confusing and irrelevant information on the internet which misguides them.
But with PrepAMCAT, AMCAT's latest product offering, you can say goodbye to amcat preparation woes.
Wondering what it is and how it works? Keep reading!
What is PrepAMCAT?
The PrepAMCAT is the official amcat preparation tool based on simulation of the real amcat examination. It is a mock amcat test which checks your readiness for the real exam.
This mock amcat test can help you take the adaptive amcat exam from the comfort of your home. You can check your readiness in terms of preparation; time consumed and scores once you've successfully completed the test. With PrepAMCAT you can test your examination skills and know where you exactly stand.
AMCAT an adaptive exam which means that the difficulty level of the next question is based on your answer to the previous question.
With real questions from previous year's amcat exams, you can get the opportunity to level up your amcat preparations. This will help you get accustomed to the examination pattern, how much time you consume and how well you're able to perform given the real amcat exam-like situation.
Benefits of PrepAMCAT
The students who do not score well in college or do not find a job through campus placements feel the need to take the amcat test. This examination opens doorways for multiple career opportunities for such students.
More than 700 companies from all over the country consider amcat score while hiring new candidates.
A good amcat score can be achieved with great amcat preparations done through the right sources only. Officially the best way to prepare for amcat is through PrepAMCAT only. The benefits of PrepAMCAT cannot be compared to any other amcat preparation tool available on the internet; which include,
– Questions from previous year amcat exam included

– Real-like amcat exam atmosphere created at the comfort of your home

– Feedback provided can be used to learn from strengths and weaknesses

– Adaptive test; exactly like the real amcat test

– The detailed score provided in 2 hours of giving the exam
So, PrepAMCAT examination can help you prepare better for the most important examination of your life. So, what are you waiting for? Take the first step towards a successful career today with AMCAT.
AMCAT Preparation Tips
There is no better way to prepare for the amcat exam than with the only tool provided by the exact same authorities. Every aspiring student must take up the PrepAMCAT subscription to accelerate and enhance their amcat preparation while there is still time. You should be sincere, hardworking and focused while preparing for amcat.
Other than that you can use the following tips to prepare well for AMCAT exam:
Prepare a timetable that allows equal time to all the modules of the amcat examination. While spending a little more time on your weak areas can be helpful too.
Practice through sample papers. You must take up sample papers available on the myamcat website which can strengthen you amcat preparation.
Lastly, use PrepAMCAT as the last leg of your amcat preparation. Complete your preparations with a couple of mock amcat tests conducted through PrepAMCAT.
So, give wings to your dreams with a good amcat score which can be achieved with good amcat preparation through PrepAMCAT. Don't wait any longer. Register for PrepAMCAT today!