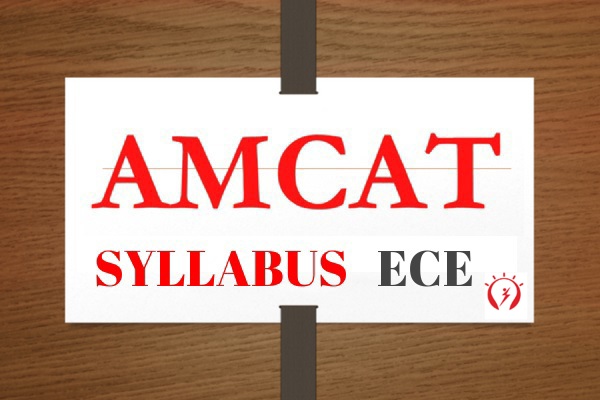 If you have reached here searching for the amcat syllabus for ECE module, we assume that you are aware of the examination pattern. However, since, it is highly likely that many of our readers are still unaware about the basics of the amcat exam, we'll delve into the same first and then move forward to the amcat syllabus part.
Freshers find themselves in a blur state of mind when looking for entry level jobs in their field of interest.
Job seekers and employers are equally baffled during the hiring process. Employers cannot solely judge a candidate based on merit and likewise, students can't blindly take up jobs wherever available.
So, to make lives easier for both, we have AMCAT – Aspiring Minds Computer Adaptive Test.
AMCAT is an examination that tests a candidate's skills in various areas like communication, logical reasoning, quantitative aptitude, and it is also used to measure their domain skills. AMCAT is a student's first step towards corporate world which can get overwhelming and discouraging if not started right.
The same applies to the subject domain module which you choose during the exam, and each has a separate preparation style, depending upon the amcat syllabus designed for it.
More about AMCAT
Every day more and more companies are considering AMCAT examination results as a part of their judgment criteria while hiring entry-level engineers. So, you got to stay ahead of the curve by putting your heart and soul into AMCAT preparations.
While the first three sections are compulsory (Communication, QA & Logical Reasoning) and the same for all students, you can make choice for the fourth one based on your area of interest.
Though different companies adopt different ways of marking a candidate's performance in the exam; they do lay heavy weight on the Optional Module chosen from the list available. This is done to assess your knowledge and interest in the chosen field of study and work.
Engineering students take up AMCAT to become eligible for jobs in the field of electronics engineering, hardware engineering, Sales and Operations Manager/Executive for Electronic Industry Processes, Research Scientist, Technical Content Developer, etc. At the end, it all boils down to following the specific amcat syllabus to excel in the exam.
For freshers seeking jobs in IT; such as network analyst, etc., the Electronics and Semiconductor module, which includes Analog Electronics and Digital Electronics, is ideal.
The amcat syllabus for this module tests the candidate for jobs in firms that deal with Embedded Systems, VLSI design, SOC, Electronic, Design and Automation Companies etc.  The exam lasts for 3 hours but the domain module requires maximum attention and focus.
This module is 25 questions long and is usually allotted 35 minutes of time.  Now that you have a brief idea of how AMCAT can open new doors of opportunities for you, let us help you prepare for the examination too.
AMCAT Syllabus for ECE
The other 3 sections of communication, quantitative aptitude, and logical reasoning can be prepared using the AMCAT Certification courses in no time but the domain module is a bit time-consuming. This is a theoretical section where you can't beat around the bush. Be precise and quick is stating your point before the time runs out.
The amcat syllabus for ece candidates includes:
Semiconductors and Devices 
Basics of semiconductor
Two terminal devices
Three terminal devices
Analog Electronics 
Basic for circuit analysis
Small Signal and Large Signal Circuit Analysis
Feedback, stability and oscillators
Op-amps
Filters
Digital Electronics 
Boolean Algebra and minimization of Boolean functions
Logic families
Combinational Circuits
VLSI Basics
To excel in this section of the examination you must be well-versed with the basics of how to operate modern day semiconductors like TV, phone and PC. The emphasis is laid on tapping whether the candidate can actually operate such machines or not. The concepts from Digital Electronics like logic gates, counters, flip-flops, algebra, logical analysis, digital design and digital arithmetic operations etc. are asked in this module. So, there is no way you can mug your way into AMCAT Examination. You must be fully aware of the practical as well theoretical knowledge of electronics.
Aspiring Minds provides a number of other certification courses that help score better in other sections of the exam like QA, logical reasoning and communication. You can check out courses like MyEnglish which strengthens English language skills. You can take up more than one certified curse from AMCAT to prepare thoroughly for the most important examination of your career.