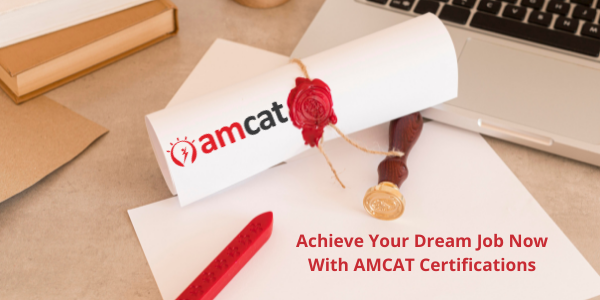 Did you just graduate, and thinking about how to add certain skills and certifications to your resume? Without wasting, much of your time, let us introduce you to AMCAT certificates since they are the best ones to get certified in a specific job skill which can help you in getting a job being a fresher. These are industry-recognized certificates, that cover a lot of trending technologies.
The benefits of AMCAT Certifications are:
They are largely recognized in industries and accepted by a lot of companies.
AMCAT is the 3rd largest organization that provides these certifications.
They can be added to the resume and can be showcased on LinkedIn Profile.
They provide scores as well as feedback about your strong and weak areas.
AMCAT certificates go hand-in-hand with your AMCAT exam score and being a fresher, helps you in applying for the best job opportunities and start your career. These certificates will add value to your resume, and there are different certificates available for various fields. Listed below are the top AMCAT Certifications required to succeed in your career.
SEO Specialist Certification
An SEO expert is one of the high in-demand job profiles these days. If you are interested in the digital marketing domain, then you need to have some basic understanding of SEO.
An SEO expert focuses on maximizing the online traffic on a website by increasing the visibility of a website on search engines. SEO Specialist is responsible for analyzing and implementing changes to websites so that their page rank is improved, and the site is optimized for search engines.
If you are looking for having a successful career in this field, then you must have relevant certifications. Having SEO Certification on your resume will help in creating a great impression when a recruiter sees it.
MyEnglish Certification
Any job interview that you apply for consists of a set of questions that require appropriate answers from your end. Apart from that, it also requires an outstanding command of tenses and preferably zero grammar mistakes. So, how do you plan to brush up your English skills and become an expert in them before going for an interview? Let us help you with that, taking up AMCAT's MyEnglish is the best solution to improve your English skills and be confident enough at the time of the interview. Give your job hunt the undue advantage of English with MyEnglish Certification.
Full Stack Developer: Java and PHP Certification
It is another certification course that one should have if one wants to have knowledge of all aspects of project development. Most of the time there are no fresher jobs available in this field, however, you can be prepared for them and apply for jobs once you are confident in your current job. AMCAT certificates for full-stack developers are available in two variants – Java and PHP.
So, do not miss your chance and gain certification as Java full-stack developer and show the recruiter how polished your skills are.
Certification In Data Scientist
Data is equivalent to money in the corporate world and those who can use scientific processes, algorithms, and systems to extract the knowledge are in huge demand. The role of data scientists comprises the use of advanced analytics technologies, to provide insights beyond statistical analysis.
So, if you are targeting data-related jobs then you should think about getting Data Scientist certification from AMCAT.
AMCAT certifications can help you improve your chances of getting your dream. So, make the most out of them and sharpen up the skill sets in your resume.
Best of luck!