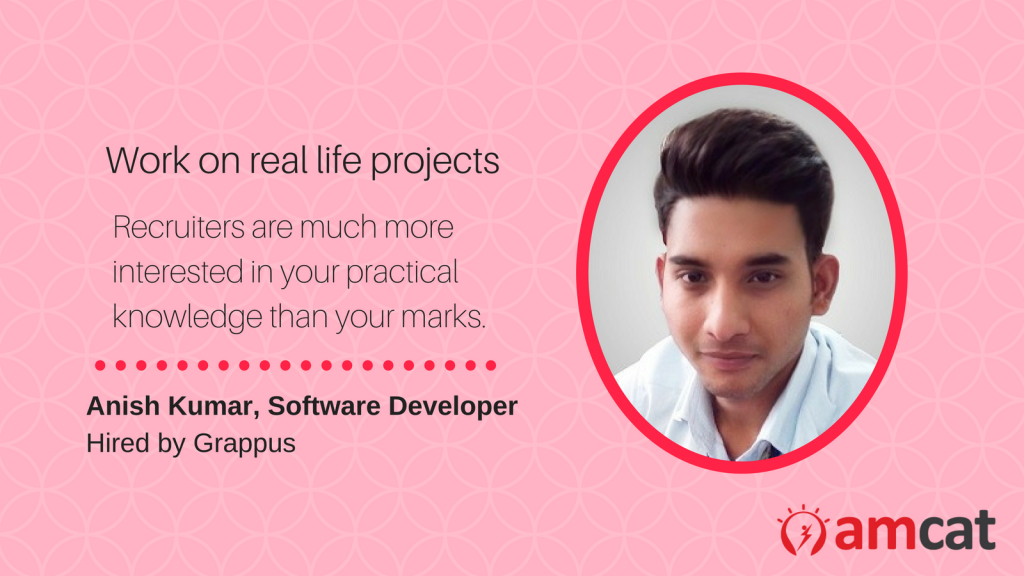 A passionate developer seeking to understand where he stood among the rest – that is how our journey begins with the story for the day. A journey which joined the dots between a job aspirant and a Grappus job. Via the AMCAT test.
The Grappus job hire:
"I took The AMCAT test to see where I stand among the crowd of millions and if to see if I was qualified enough to get hired."
Anish Kumar, a 2017 graduate from the Poornima College of Engineering had completed his B.Tech degree this year and was moving towards a job search path.
However, it wasn't the burning need for a job which led him towards considering the AMCAT test. And that's where this AMCAT testimonial story is separate.
The AMCAT Test Experience
Each candidate who clears the AMCAT test with a high percentile score, approaches the test with adequate preparation. And that's what Anish did too.
"I focused on quantitative and verbal sections. I managed to score pretty decent percentile, because of which I got interview calls for quite a few companies through AMCAT."
In terms of numbers, he got three interview calls. Including the one for the Grappus job. And then prepared again, this time for the interview process.
"The interview process was pretty seamless. I had prepared by revising my concepts on web development and design and apart from that, I focused on elaborating the projects that I had worked upon."
Overall, Kumar liked his AMCAT test experience. "It serves as a great feedback platform, but it also provides with ample opportunities to scale your career." He particularly liked how it gave him an idea of his own strengths and weaknesses.
We asked him if he had any words of advice for those seeking jobs, especially software developer jobs.
"Try to work on as many real life projects as you can. Your recruiters would be much more interested in your practical knowledge than your marks. And (while you answer questions) in an interview, try to relate your answers with something relevant you might have executed in the past."
Keen on exploring more of our AMCAT testimonials? Try our section for more such stories. And consider joining the pack – by scheduling your AMCAT test, today.