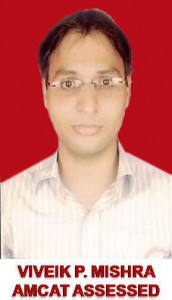 It has been a great journey since i took the AMCAT in 2010. It was a time when job opportunities were scarce and I was desperately hunting for jobs despite doing MMS in finance. Our college and placement team tried really hard to schedule a slew of campus interviews but those were either in the fields that I was not interested in or were from unreputed firms.
But then I took the AMCAT, though I was not sure of getting shortlisted as I was not convinced by my performance. However, after  days of patience testing period, my phone bell rang and i got a call for the group discussion round. I was enthralled as I got shortlisted from a batch of over 400 students from various MBA colleges of mumbai and navi mumbai. It really boosted my confidence and I went all guns blazing in the GD round only to get through to the ultimate personal interview round.
I some how managed to get through the last hurdle, convincing my interviewers that I was the right person who could do justice to the profile they were offering.
Since then it has been a journey in which I have steadfastly grown by leaps and bounds. The process of learning still continues though.
In the last over one and half years of work experience as an equity analyst, I have gone through two sucessful appraisals, and that too at a time when Indian stock markets have shown pessimistic trends and plunged around 25% yoy. And I am even keeping my fingers crossed for a promotion up the order soon.
So, I wish to extend my heartfelt gratitude to AMCAT for giving the much needed breakthrough to my career, post which my journey in life has not only been progressive but also highly rewarding!
Viveik P. Mishra,2010 Batch
AC Patil College of Engineering Navi Mumbai
Hired by iTrust
More than ten lakh students have taken AMCAT, each month more than 70,000 interview calls are given by companies based on AMCAT. 200+ companies recognize AMCAT and each month more than 60 new companies use AMCAT to recruit freshers.Visit http://www.myamcat.com to know more!