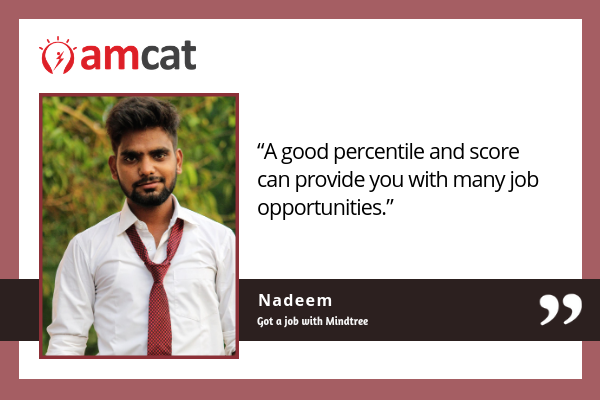 Getting a good fresher job right away is not an easy task to achieve, especially, in an organization where you get a chance to learn and evolve. But Nadeem with AMCAT exam was successful in grabbing the opportunity to work with Mindtree and kick-started his career with one of the biggest IT Companies in India.
So, let's find out how Nadeem was able to secure a job with such a globalized company.
Why did you opt for AMCAT Exam?
"My reason for choosing the AMCAT exam was to get more job opportunities. And, it didn't disappoint because I got a lot of interview calls"
We always try our best to create job opportunities. Just last year, we created as much as 5 lac opportunities.
Tell us about the AMCAT feedback report
"Even though I was getting a lot of job interview calls, I was not getting selected for any job. It was after analyzing the AMCAT feedback report that I realized how poor my English was and that was the reason why I was not getting selected. After knowing my weakness, I started working on it."
The sole motive of the AMCAT feedback report is to make things easier for the test-taker. You can use the feedback report to evaluate your performance. This will help you mark the areas where you perform well and where you need to improve.
Did you renew your subscription?
"Yes. I did" says Nadeem.
"After renewing the subscription, I scored good marks and got a lot of job opportunities.''
He further adds, "A good percentile and score can provide you with many job opportunities."
Getting a good score in your AMCAT exam will surely manifold your chances of getting the job of your dream.
Would you recommend AMCAT to others?
"Definitely. I have already recommended AMCAT to many of my friends and they are also getting multiple job offers."
Thank you, Nadeem! It's our pleasure that you think so highly of the AMCAT. Also, we are happy that even your friends are getting good job offers.
Nadeem made the best out his AMCAT exam and with his hardwork he successfully jumped all the hurdles that were between him and his ideal job. And, if Nadeem can achieve all this then so can you.
So, don't wait any more. schedule your AMCAT exam and start your career with a bang.