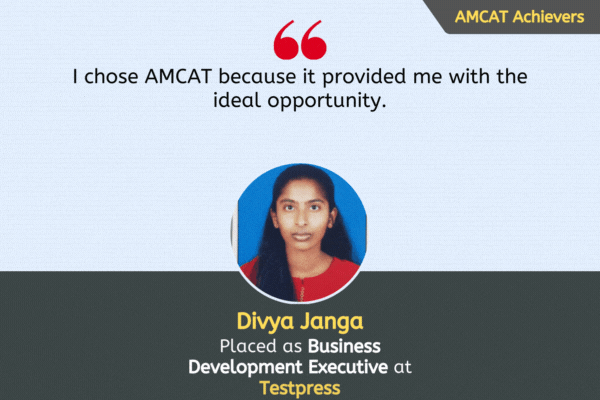 AMCAT exam is a one-stop solution for all your professional issues. A milestone for fresh graduates is getting their first job. She walked us through her journey of discovering diverse job opportunities with the assessment.
What made you choose AMCAT?
Divya said, she chose AMCAT because of the bigger companies, higher salaries, suitable job profiles, and convenient job locations.
 Tell us about the job you got through AMCAT?
"I got a position of Business Development Associate in Testpress, told Divya."
Register for AMCAT | India's Leading Fresher's Assessment And Job Site (myamcat.com)
How did AMCAT help you in getting this job?
"AMCAT helped me in getting a job by applying for better opportunities."
Did you have any issues in your job search? Please provide more details.
"No, I did not face any difficulty with the help of AMCAT," told Divya.
What role did the AMCAT feedback report play in the process?
"AMCAT, as well as the feedback report, is a nice platform for freshers, that helps in identifying strong and weak areas with which one can make the required changes."
Would you recommend AMCAT to others?
"Yes, Yes, I'll definitely recommend AMCAT to others."
Would you recommend AMCAT to others? Also, can you mention 3 main points that you liked about AMCAT?
"The things which I liked about AMCAT are:
Quick action
Better opportunities
Useful for freshers, concluded Divya."
Which of the module of the AMCAT feedback report was the most helpful?
"I found the Job Suitability module most helpful out of all the modules."