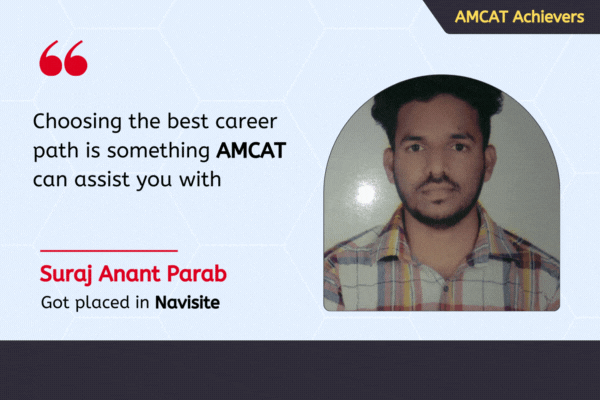 Enrolling in the AMCAT was one of my wisest career decisions, especially in terms of my professional career. Since everything went so well and smooth, I was able to get a fantastic job as a fresher to begin my career.
What pulled you to AMCAT above other possible options?
Suraj said that he chose AMCAT because of the relevant job profiles.
Tell us about your job role and the company where you got placed?
"I got placed in Navisite as a Graduate Trainee Engineer, and I was placed through AMCAT", told Suraj.
Register for AMCAT | India's Leading Fresher's Assessment And Job Site (myamcat.com)
Has AMCAT helped you in achieving the above-mentioned points?
"Yes, AMCAT has been extremely helpful in achieving my dream job, told Suraj."
While looking for a job, what all difficulties did you face? Please elaborate.
"While looking for a job on AMCAT, I found out that I had communication problem due to which it became difficult for me."
Would you recommend AMCAT to others? Also, can you mention 3 main points that you liked about AMCAT?
"Yes, I'll for sure recommend AMCAT to others. The things which I liked about AMCAT are:
The test pattern is nicely built
The level of questions is good
Portal is easy to use, concluded Suraj."
We Wish Nothing But The Best For You!