AMCAT is one of the best ways out for all your professional problems – says Ajeet, one of our candidates who talked to us recently. He then told us about his journey of finding out various job opportunities with AMCAT.
Since Ajeet was clear-headed about his career choices and he trusted AMCAT without a doubt. Hence, he underwent a smooth job selection process.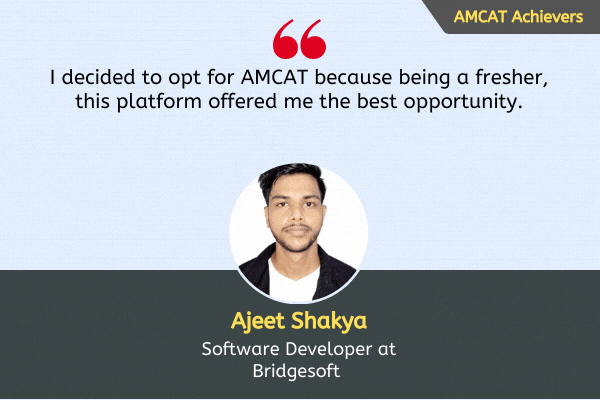 Would you like to know more about his story? Read below.
Why did you opt for the AMCAT assessment?
"I opted for AMCAT because as a fresher I couldn't find enough opportunities on campus as well as other platforms. AMCAT offered me the best opportunity from multiple companies for different job profiles.", Ajeet said.
Did you face any difficulties while looking for a job?
"Honestly, no. I didn't face any difficulty as such in looking for a job because I took AMCAT on time and I got good scores in the exam and was shortlisted in many companies. According to me, AMCAT is a very good platform for when it comes to job hunting."
Tell us about the job you got through AMCAT.
"Based on my AMCAT assessment performance, I got first interview call from Bridgesoft Solutions Pvt. Ltd. and after three rounds of the interview process, I got selected as a Java Developer."
What role did the AMCAT feedback report play in the process? How was it helpful for your placement process?
"It highlights my strong areas as well as weak areas. After getting to know about my strengths, I brushed up on those topics.
Then I focused on my weak area and worked on those topics as suggested by them.
Henceforth, I could work on myself effortlessly through such a comprehensive analysis.", Ajeet explained.
Would you recommend AMCAT to others? Why?
"Yes, I will recommend this platform to others. It is evident from my experience that I won't miss out on any chance to share how this test tremendously helps in easing out the job search process.", Ajeet concluded.
If you have any queries, feel free to get in touch with us.
We Wish You All The Best!