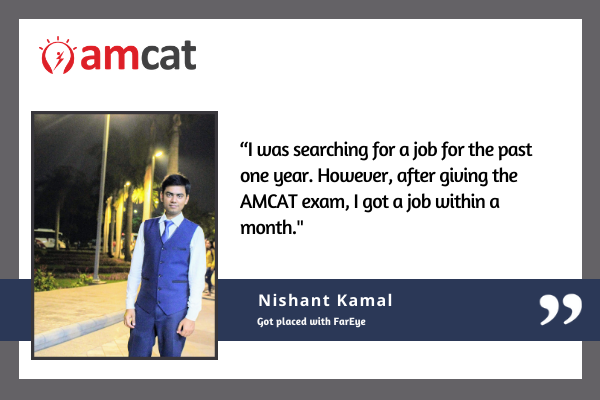 Finding a good job, especially during the COVID-19 pandemic can be a huge deal. The job market is evolving so rapidly, and companies are being so picky about the candidates they hire, that pinpointing how to get a good job can be a task in itself. However, Nishant faced all these issues and made the best of it with the help of the AMCAT exam.
Nishant Kamal, a 2019 B.tech pass out from Vellore Institute of Technology is an inspiration on finding jobs during the COVID-19 times. Let's read his full success story –
Why did you opt for the AMCAT exam?
"I opted for AMCAT because here you can find the latest job updates. With other platforms, there is a problem with the job search. So, that makes AMCAT the best platform when looking for a job."
AMCAT understands your job requirements and introduces to the latest opportunities in your relevant field. We also keep our candidates updated about the latest jobs through emailers so that they never miss out on any opportunity.
Was it difficult to find a job during the COVID-19 crisis?
"No, it wasn't. I did not face any difficulties in searching for jobs, thanks to the AMCAT exam."
COVID-19 made things difficult for people looking for a job. A lot of people felt the axe of the crisis. However, a lot of industries emerged through the whole thing unscathed. And, AMCAT collected these industries and jobs available and brought it for our AMCATeers.
"I was searching for a job for the past one year. However, after giving the AMCAT exam, I got a job within a month."
Will you recommend AMCAT to others?
"Of course. I will most definitely recommend AMCAT to others. I will give them my example and tell them how I got a job even during the pandemic."
Thank you, Nishant!
Nishant has emerged as an epitome of what it means to not give up in the face of failure and strive to find success, even when a pandemic is staring in your face. And, much like Nishant, you too can find your dream job with AMCAT.
Just ensure that you are choosing the modules relevant to your profile and scoring well in each section. Pay equal attention to both the compulsory and the optional modules so that you don't fall short of any opportunity.