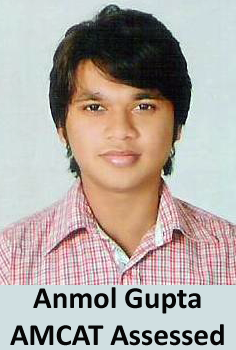 Aspiring Minds: Tell us something about yourself and your career goals.
Anmol: I am born and brought up in Delhi. I have done my schooling from Kulachi HansRaj Model School and have done my engineering from Bharati Vidyapeeths College of Engineering in Computer Science. I love coding and want to get associated with the field of technology even if I get into management as well.
Aspiring Minds: What difficulties did you face while searching for a job and how did you overcame those difficulties?
Anmol: The most difficult part is to judge a company on the basis of recognition, establishment and the quality of work they are providing but on the basis of my experience with AMCAT, all the opportunities that I got were worthy and one can have blind trust on AMCAT.
Aspiring Minds: Tell us about your experience post giving the AMCAT test and how AMCAT helped you in getting the job at Hot Cocoa Software?
Anmol: I gave AMCAT on the advice of my senior and didn't expect the response that I got from AMCAT. The opportunities that I got from AMCAT were precious in terms of work as well as in terms of money because "money is always important but work is the most important". AMCAT timely informed me about HOT COCOA SOFTWARE via emails, SMS and phone calls and I got the interview call because of AMCAT only and I cracked it.
Aspiring Minds: Would you suggest other job seekers to take AMCAT? If yes, why
Anmol: Yes, I would definitely suggest AMCAT. I have even suggested my juniors in college to take AMCAT because the response and opportunities that I got via AMCAT were numerous and each opportunity had a great challenge and learning. The test conducted by AMCAT adds more to the knowledge of the candidate. AMCAT helps you to seek a job like a BIG BROTHER by timely and frequently informing you via emails and phone calls.
Aspiring Minds: Would you like to share some tips which can help other job seekers in getting a good job?
Anmol: First and foremost, believe in yourself. Secondly, believe in AMCAT and take the test very seriously. Regularly check AMCAT website, you will also keep receiving opportunities for which you get shortlisted via email. Appear in as many interviews as possible as it helps in self learning. Have faith in AMCAT, organization and process of interview as they are devoting their precious time and expenses to hire you.
Anmol Gupta, Bharati Vidyapeeths College of Engineering-Delhi, 2013 Batch
Hired by Hot Cocoa Software
Yet to take AMCAT? Book your test slot today www.myamcat.com/schedule-test