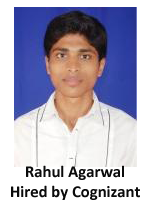 Aspiring Minds: Tell us something about yourself and your career goals.
Rahul: My name is Rahul Agarwal. I am from Bhubaneswar, Orissa. I have completed my B.Tech from GITA Engineering College, Bhubaneswar. I want to achieve many things ahead in my life and the type of start that I wanted has been provided to me by AMCAT.
Aspiring Minds: What difficulties did you face while searching for a job and how did you overcame those difficulties?
Rahul: As a fresher, I too faced a lot of difficulties because of recession, went to many places for searching a job. I had 2 jobs in my hand when I left the college but none of them was the one that I was actually searching for. So I decided to appear for AMCAT as I had read many good feedbacks about AMCAT. Finally I appeared and now I got a perfect start of my professional career 🙂
Aspiring Minds: Tell us about your experience post giving the AMCAT test and how AMCAT helped you in getting the job at Cognizant Technology Solutions?
Rahul: Aspiring Minds approach towards the student is amazing. They sent me my AMCAT result with a detailed feedback in less than a week. The feedback is so detailed that you will get to know each and every pros and cons about yourself in detail. So, following that I started preparing to overcome my weak areas and finally I got selected in the World's fastest growing IT Company – Cognizant Technology Solutions.
Aspiring Minds: Would you suggest other job seekers to take AMCAT? If yes, why
Rahul: I have already suggested many of my friends to take AMCAT, as it provides us the right platform for getting a job. Again it is very reliable & economical and I will suggest each and every one to appear for it.
Aspiring Minds: Would you like to share some tips which can help other job seekers in getting a good job?
Rahul: I would like to tell every fresher that always be confident and have a positive approach, never try to bluff in front of an interviewer and have a good hold in your subject areas and projects.

Rahul Agarwal, GITA Engineering College, Bhubaneswar, 2013 Batch
Hired by Cognizant Technology Solutions
Have you taken AMCAT yet? If No, you are missing these amzaing opportunities. Book your test slot today www.myamcat.com/schedule-test