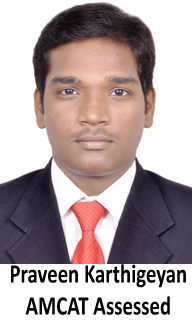 Aspiring Minds: Tell us something about yourself and your career goals.
Praveen: I am Praveen Karthigeyan doing final year Computer Science and Engineering in Narasu's Sarathy Institute of Technology. My short term goal is to get placed as a software engineer in a reputed Multi National IT Company. My long term goal is to climb up the corporate ladder, thus becoming a renowned business leader.
Aspiring Minds: What difficulties did you face while searching for a job and how did you overcame those difficulties?
Praveen: Studying in a Tier – 3 college in a Tier – 3 city was the biggest difficulty but I overcame it by using the Internet and getting connected with my friends studying in big institutions. I got insights and exposure from my online acquaintances and friends and updated my skills and knowledge consistently.
Aspiring Minds: Tell us about your experience post giving the AMCAT test and how AMCAT helped you in getting the job at a software MNC?
Praveen: One of my seniors in college got placed in HCL through AMCAT and he stressed me the importance of taking AMCAT. My college sponsored the test and I prepared for it for a while. I was able to score well with enough preparation and I got good scores in all important sections of the test. I was confident that I will get some good job opportunities through AMCAT. I got placed in a good software MNC through AMCAT. I thank AMCAT whole heartedly. Studying in a Tier 3 institution, I could have never got this big opportunity without the help of AMCAT.
Aspiring Minds: Would you suggest other job seekers to take AMCAT? If yes, why
Praveen: Of course yes. AMCAT opens up a new stream of job opportunities for graduates. Irrespective of the reputation of the institution you are studying, if are talented and skilled, you can get really big opportunities through AMCAT just as any other guy studying in a reputed institution.
Aspiring Minds: Would you like to share some tips which can help other job seekers in getting a good job?
Praveen:
1. Have a burning desire and high motivation and self belief followed by hard work.
2. Have a clear mind set and keep your spirits high even if you fail initially.
3. Give importance to details and know thoroughly what the industry expects from you.
4. Equip yourself with all the qualities that the industry requires.
5. Be mentally prepared to impress the HR within the very few minutes you spend with them.
6. Update your knowledge and skills even if you have got the job.
Praveen Karthigeyan, Narasu's Sarathy Institute of Technology, 2014 Batch