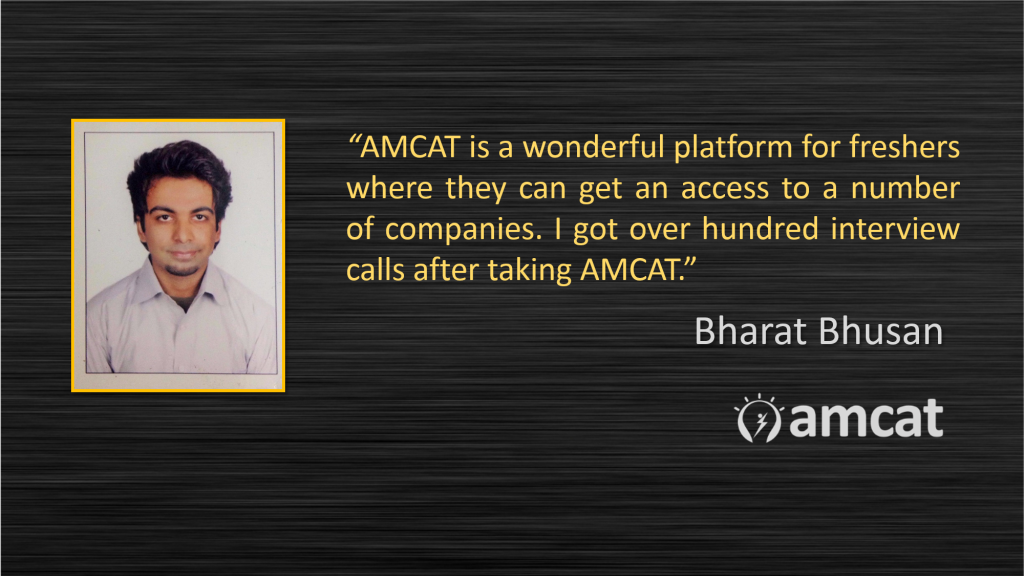 Getting a good fresher job right after college! Sounds like quite a deal. Isn't it?
Hear out how Bharat Bhusan from Dronacharya College of Engineering managed to kickstart his career right after college just by taking AMCAT.
Q: Tell us something about yourself and your career goals.
My name is Bharat Bhusan. I want to work in an organization with a professional work driven environment where I can utilize and apply my knowledge, skills which would enable me (a fresher) grow while fulfilling organizational goals.
Q: What difficulties did you face while searching for a job and how did you overcome those difficulties?
Due to cut-throat competition, it was very difficult to get a good job to start my career with. I attended over 50 interviews and hardly got any offer letter. I was not able to understand my shortcomings and it was where AMCAT helped me a lot.
Q: How long did it take to get your 1st interview call after AMCAT?
After taking the AMCAT, I started getting interview calls within a month.

Q: Tell us about your experience post giving the AMCAT test and how AMCAT helped you in getting the job at Talk Charge?
I applied in TalkCharge through AMCAT, and for the past 6 months I'm working with the same organisation and I'm very satisfied with the job. It was only because of AMCAT I got my first job at TalkCharge.
Q: How many interview calls did you get after taking the AMCAT?

More than hundred and still counting
Q: Would you suggest other job seekers to take AMCAT? If yes, why.
Yes, Definitely. AMCAT is a wonderful platform for freshers where they can get an access to a number of companies.
Q: Would you like to share some tips which can help other job seekers in getting a good job?

Just stick to AMCAT for best job opportunities.
Bharat is not the only one – read how many aspirants landed their dream jobs just by taking AMCAT. Why don't you give it a shot?