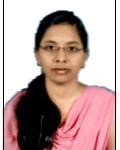 "I would definitely suggest AMCAT to job seekers because it helps in analyzing your skills, understanding your strengths and weaknesses and suggesting ways to improve."
Niharika, Aditya Engineering College, 2016 Batch
Aspiring Minds: Tell us something about yourself and your career goals.
Niharika: My name is Niharika. I am pursuing B.Tech in Computer Science and I love coding.
Aspiring Minds: What difficulties did you face while searching for a job and how did you overcome those difficulties?
Niharika: In the third year of B.Tech, I started attending campus interviews. Before Mindtree, I attended 5 campus drives and gave a written aptitude test but I couldn't crack any of them. Then, I decided to improve my skills both technical and non-technical (communication skills and aptitude). I soon came to know about AMCAT, I prepared for the test and it was a success.
Aspiring Minds: Tell us about your experience post giving the AMCAT test and how AMCAT helped you in getting the job at Mindtree?
Niharika: AMCAT has a great exam pattern, it generates a feedback report which is a detailed analysis of one's performance. The report even suggests which industry is one eligible for.
Soon after I gave the test, I received a mail from AMCAT that I am shortlisted for Mindtree's technical test. I took the test, attended the face-to-face interview and got selected!!!!
Aspiring Minds: Would you suggest other job seekers to take AMCAT? If yes, why
Niharika: I would definitely suggest AMCAT to job seekers because it helps in analyzing your skills, understanding your strengths and weaknesses and suggesting ways to improve.
Aspiring Minds: Would you like to share some tips which can help other job seekers in getting a good job?

Niharika: The only thing I would like to share is that whenever you face an interview Just be yourself. Don't try to be over smart because the one sitting in front of you is even smarter. They would have come across many people like you so they would expect the same old answers. Be yourself and honest in presenting your answers.