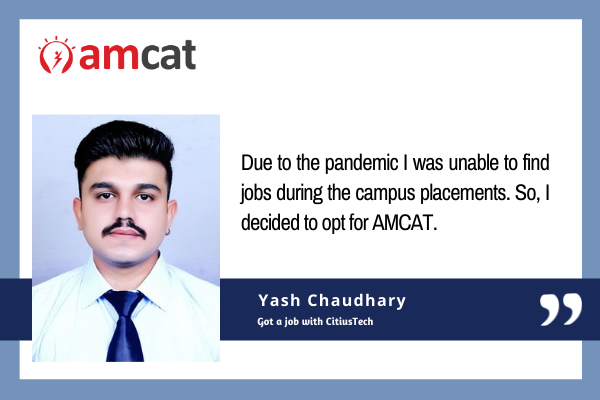 The COVID-19 pandemic changed a lot of things and made job search harder than ever. And while the world reeled under the effects of the pandemic, AMCAT stood tall and ensured that there were still a lot of job options for candidates to apply to. And talking about the massive success of the AMCAT exam, especially during the pandemic is Yash Chaudhary.
Yash, a 2019 engineering pass out found his dream job through the AMCAT exam. How he did that, let's find out –
Why did you opt for the AMCAT exam?
'Due to the COVID-19 pandemic, I was unable to get a job through the campus placements. So, I decided to opt for the AMCAT exam to find a job that would match my skills and capabilities.'
He also added that 'while finding a job, a person has to face many things and many difficulties. But later, these same difficulties prove to be the stepping stones to success. Similarly, I faced difficulties while searching for the correct platform to showcase my skills. But while searching for the good, I found the best in AMCAT.'
Tell us about the job you are currently placed at
'I am currently placed with CitiusTech as a Software Developer. The package is around 4.5 LPA, which is pretty good for a fresher. And, all the credit for this goes to AMCAT. The hiring process was so smooth, thanks to it.'
Thank you, Yash! We are glad we could help you through your difficult times and could make job search a breeze for you.
What about the AMCAT feedback report? Did it help?
'The AMCAT feedback report actually helped me a lot by guiding me about the topics where I was lacking. The report was very well detailed.'
The AMCAT feedback report is one of the smartest, all-round reports that covers every aspect of your personality and skills, and tells you in detail about your strengths and weaknesses. It can help you identify your plus and minus points and guide you single-handedly towards success.
'I would recommend the AMCAT exam to others as it provides ample opportunities to find jobs in accordance with one's skills-set. It provides exposure to multiple companies and helps to get places in the best possible company.'
The AMCAT exam ensured that even when the pandemic was trying to close the doors on Yash's dreams, he still had lots of options and kept improving on his existing skills to find his dream job. Today, AMCAT is so successful because it knows how to put it's customers first and everything else second. So, leave all your worries and doubts aside and book your AMCAT right away to start on a success journey of a lifetime.
All the best!