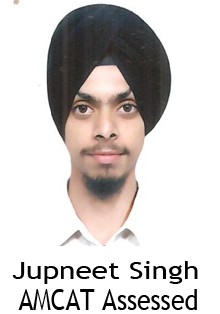 Aspiring Minds: Tell us something about yourself and your career goals.
Jupneet: I am Jupneet Singh. I am in the final year of my B.Tech (CSE) from GTBIT, GGSIPU. I am interested in programming especially the mobile application development and would like to grow my career in this field.
Aspiring Minds: What difficulties did you face while searching for a job and how did you overcame those difficulties?
Jupneet: Today, it's very difficult to get a job that matches your profile due to the competition. So everyone needs a platform like AMCAT which provides an opportunity to get your dream job.
Aspiring Minds: Tell us about your experience post giving the AMCAT test and how AMCAT helped you in getting the job at InoXapps Mobile solutions?
Jupneet: The process was conducted in a fine manner by AMCAT officials. Everything was properly planned and on time. Results came quite quickly. AMCAT provided me the required job opportunity to appear for the interview process of InoxApps Mobile Solutions. I appeared for the drive and got selected.
Aspiring Minds: Would you suggest other job seekers to take AMCAT? If yes, why
Jupneet: I would definitely suggest jobs seekers to take AMCAT test because it will inform you about available jobs that match your profile. You will not have to search for job openings anywhere because AMCAT will keep sending you the job opportunities matching your profile and you can utilize your time to prepare for the interviews.
Aspiring Minds: Would you like to share some tips which can help other job seekers in getting a good job?
Jupneet: I would like to share that everyone should take his/her resume seriously. Be honest about everything.
Jupneet Singh
Guru Tegh Bahadur Institute of Technology, New Delhi, 2013 Batch,
Hired by InoXapps Mobile solutions