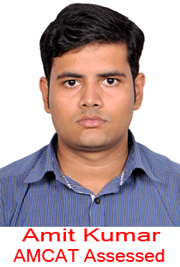 Aspiring Minds: Tell us something about yourself.
Amit: I am currently studying in 8th semester of engineering degree from Acharya Institute of Technology, Bangalore. I am doing my degree in Information Science Engineering and I have done my 12th class from St. Xavier's School.
Aspiring Minds: How did you got to know about AMCAT, when did you decide to appear for the same?
Amit: I got to know about AMCAT through my friends and seniors, many of whom got placed through AMCAT. So, I also decided to appear for AMCAT and gave the AMCAT test at my college campus around 4-5 months back. There are certain parameters, like English, Quantitative & Logical ability and domain knowledge, on which AMCAT judged me and helped me know my potential.
Aspiring Minds: Tell us about the interview experience
Amit: I am very happy in the way how AMCAT was held and how my interview was conducted. The interviewers were friendly and the questions asked in the interview were very good. Overall, my interview went well and I am quite satisfied with my performance.
Aspiring Minds: Would you like to share some tips with the fellow AMCAT takers.
Amit: I am very happy on my selection with a reputed MNC and have already suggested my friends to give the test in the upcoming event. I will also suggest my juniors to take AMCAT so that they can also be benefited by this test.
Amit Kumar
Acharya Institute of Technology, Bangalore. 2013 Batch