Off-campus placements is an unprecedented job search option which many freshers either ignore or remain confused about.
It is because of the lack of quality jobs that runs off of an aspirant's sight due to the lack of research and availability of proper mediums. However, with the right kind of support, assessments and feedback system, off-campus placements can become a launchpad for you to kickstart your career.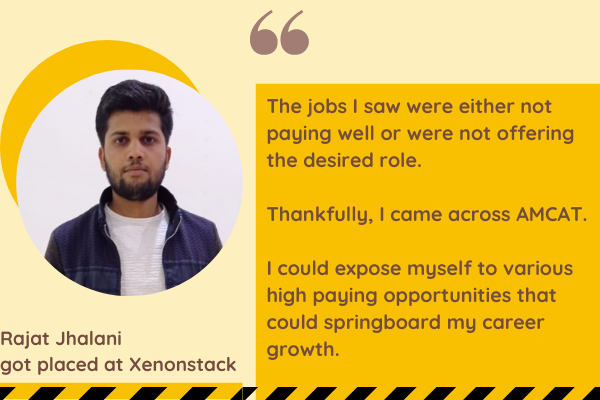 Presenting you a similar story of our candidate Rajat Jhalani who shares a transformative career journey of overcoming self-doubts to get his first dream job as an Associate Software Engineer at XenonStack, Chandigarh. He expressed how the AMCAT test is a one-way solution for 3-tier college students.
Dive into the conversation by scrolling down below.
Why did you opt for the AMCAT exam?
Rajat told us, "AMCAT provide opportunities for off-campus placements in top tech companies. I was already struggling in finding potential opportunities. Henceforth, AMCAT emerged as a ray of hope to the kind of situation I was stuck in."
Did you face any difficulties while looking for a job? 
"Yes. I wasn't able to find a suitable option for the profile I was looking for. The jobs I saw were either not paying well or were not offering the desired role. Thankfully, I came across AMCAT. I could expose myself to various opportunities that could springboard my career growth through off-campus placements as well. ", shared Rajat.
Tell us about the job you got through AMCAT and other offers and interview calls you received through it. 
"Honestly, I was not sure If I would get a job this year. The chances seemed bleak due to the ongoing pandemic. However, with AMCAT, I Got an Interview call from Xenonstack, Chandigarh.
I am glad to share that I have finally got placed there as an Associate Software Engineer. It was something I was looking for to start my career. Now, I am satisfied that my profession is heading the right trajectory", expressed Rajat.
We appreciate Rajat's unparalleled commitment and perseverance throughout his job search process. Indeed, his performance and competence have led him to his goals. 
How did the AMCAT exam feedback report help you assess your performance?   
Rajat said, "AMCAT exam feedback report is a decisive tool for every fresher in my view. Very, often, we lose sight of our potential and loopholes. In the process, we turn blind eye to the gaps which are regressing our growth.
In my experience, the AMCAT exam feedback report played a pivotal role in helping me identify my strengths and weaknesses. I worked on my weaknesses. Henceforth, I got placed at my desired job."
Would you recommend AMCAT to your peers? Why?
Rajat asserted, "Yes, I will definitely recommend AMCAT to my peers."
In his view, AMCAT is the best way to try for placement and employability skills assessment.
If someone belongs to a tier-3 college, then this is the standard platform to latch. It offers numerous professional possibilities in one go. This is something that is a dream of every fresher.
We were thrilled to hear how things worked for Rajat professionally through AMCAT. We wish him all the success in future.
Are you also wondering to book your AMCAT slot? Click Here to register. 
All the best