AMCAT assessment became a springboard for many job seekers during the pandemic. It is a transforming medium that helps in exposing job seekers to abundant job options based on their competence. Our candidate Vishwas recently shared his professional journey with us. He discovered a wide gamut of companies with this employability test.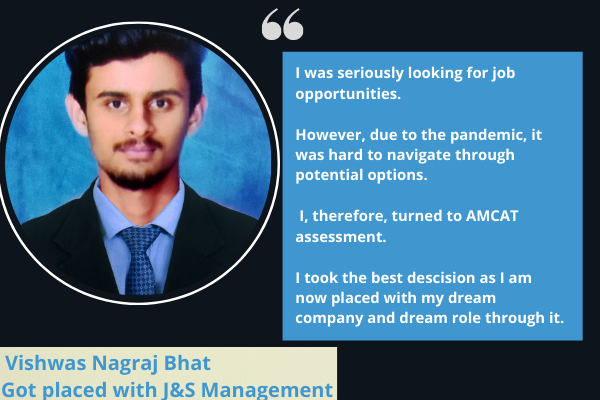 Vishwas is now placed with his desired company J & S Management. Do you want to know how he carved out his way? Scroll down to learn more.
Why did you opt for the AMCAT assessment?
I was seriously looking for job opportunities. However, due to the pandemic, it was hard to navigate through potential options. I, therefore, turned to AMCAT assessment for the same.
Could you share if you faced any difficulty while looking for a job with AMCAT?
No, I did not face any difficulty while looking for a job. I would rather say each process happened quite smoothly with the AMCAT assessment.
Tell us about the job offer/(s) you got through with the AMCAT assessment?
I am happy to share that I had received many assessment links from various companies through the AMCAT. Based on my performance, I had received my desired job offer from J & S Management.
Book your AMCAT slot now Click Here
We are glad how Vishwas steered his professional path to his dream company with us.
How did the AMCAT feedback report help you in your performance assessment?
AMCAT score plays a significant role in attracting companies' attention as it tells them how capable we are. The AMCAT feedback report helps us to analyze our performance. Henceforth, we can work on our weaknesses and strengthen our strengths. I did the same, and it eventually paid off.
Would you recommend the AMCAT assessment to your peers?
Yes, without a second thought.
Why so?
I feel that if something phenomenally helps you, then you invariably feel like sharing it across. For me, AMCAT worked quite well and has been a professional landmark. I, therefore, would surely share it with those who are seeking the right source for job opportunities.
Take AMCAT Exam- Click Here
All the best