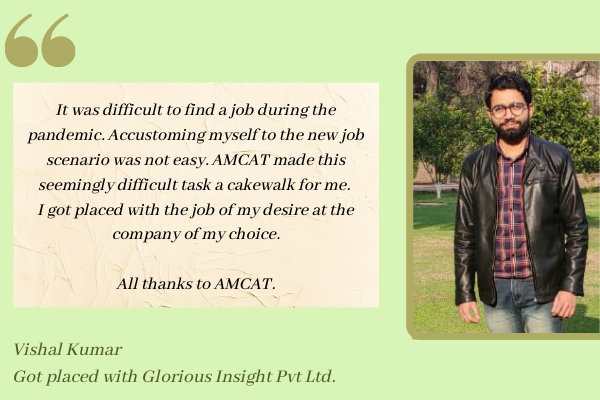 One of our candidates, Vishal Kumar shared his journey of finding his first job through AMCAT. He expresses how the exam turned his struggle into a cakewalk as accustoming to the transitioning world is not easy. Therefore, presenting you an exclusive conversation with Vishal himself. Herein, he told us about the challenges faced, AMCAT assistance, his first job and more.
If you are also assailing the same boat, then here is your chance to dig into some exclusive nuggets of wisdom from his story. Dive right in to learn more.
Q1. Why did you opt for AMCAT?
A1. "I took AMCAT for placements purpose."
Q2. Did you face any difficulty while finding a job?
A2. He asserted that he did face difficulties while looking for jobs. That was the very reason he entrusted AMCAT. Here is an elaboration of his challenges:-
Pandemic Situation Took a Toll
"Due to pandemic situation, I could not go for physical interviews. Attuning myself to virtual shifts was not easy due to the lack of awareness and knowledge about decent job opportunities."
At long last, I finally hopped on to AMCAT and am satisfied that I took my chances here. Eventually, I could acclimate to not only this new job scenario but also opened myself to a diverse technical job opportunity."
Do you want to register yourself for AMCAT? Click here to book a slot.
Q3. Tell us about the job you got through AMCAT and other offers and interview calls you received through it.

A3. I finally got a job in my desired role as a Software Engineer Trainee(Java developer) at Glorious Insight Pvt Ltd.
Q4. What are your views on AMCAT feedback report? How did it help you during your placement?

A4. "It highlights my strong area and weak area. After learning about my strengths, I brushed up on those topics.
I then focussed on my weak area. I again got back to the AMCAT recommendations and polished those topics as suggested by them. Henceforth, I could work on myself effortlessly through such a comprehensive analysis."
Click here to book an AMCAT slot.
Q5. Would you recommend AMCAT to others based on your placements?

A5. "Yes. Of course. It is evident from my experience that I won't miss out on any chance to share how this test tremendously helps in easing out the job search process."
Q6. Since your answer is a yes. Please explain why would recommend AMCAT for placements?
A6. Vishal elucidated some crucial points as described below:-
i. Its score highlights you among all the participants
ii. The AMCAT score is valid for a year and this is a good amount of time to support someone in his/her job search.
iii. Thus, it provides so many opportunities and enough room for improvement.
iv. This platform reduces your work of going from company to company for job opportunities. Instead, it brings it to the same plate and that phenomenally reduces time and anxiety owing to the work-related uncertainties.
Click here to book an AMCAT slot.
Impressed Vishal quoted how AMCAT opens you to around 600 companies at a time. And this is something that every fresher is looking for as they are new to the process.
Indeed, his satisfaction reflects on his response. And this makes us extremely glad to know.
We wish him all the best in his future endeavours.
Stay tuned to www.myamcat.com for more such stories.