AMCAT exam assists in finding jobs by assessing you through diverse test modules. Indeed, the pandemic has come as a bolt from the blue for job seekers, especially freshers.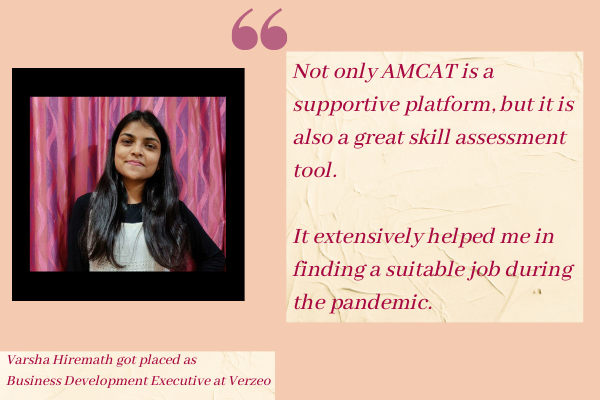 However, with the right strategy, you can find a job as the employers are still looking for talent like you behold. it is just, the mode has changed. You need to adapt to this virtual shift.
Sharing a similar journey, our candidate Varsha had an in-depth conversation with us. She shared how she assailed through the rough times with AMCAT safeguarding her professional journey.
The pandemic did bring so many challenges for her as well. However, she discovered her talent and her first job with this employability test. She is now placed as a Business executive at her desired company. Do you want to know more about her journey? Find out how? Scroll down below to learn more.
So Varsha, why did you opt for the AMCAT exam?
She explained, "I opted for the AMCAT exam since I could get multiple job opportunities from a wide gamut of companies which otherwise wasn't possible. Getting manifolds of chances through the examination eventually, I think I took the right decision."
We'd like to know if you faced any difficulty during the process?
"No, I didn't face any kind of difficulty while looking for a job through AMCAT. Rather, it was quite easy for me to find a suitable opening matching my skillsets.", she said.
Tell us about the job/(s) you got through the AMCAT exam?
"I am happy to share that I got placed in "VERZEO" as a business development executive. In fact, I am thrilled to tell you that I got many different opportunities based on my profile and AMCAT score. Indeed, this platform has become a turning point in my job search journey.", Varsha shared.
How did the AMCAT exam feedback report help you?
"I'd say, it is a commendable initiative by AMCAT to provide such a detailed feedback report. Honestly, freshers go clueless about the reason for selection and above that rejection. This report gives a clear picture of the candidates' strengths and weakness. It also shows the eligibility for jobs according to the performance. Personally, it helped me get the extra mile in self-assessment. I now have a clearer insight into my strengths which will surely help in my first job too."
Would you recommend AMCAT to others? Why?
Expectedly, she shared an assertive response. She told us, "Not only is the platform supportive but is also a great skill assessment tool. The feedback report is a transforming medium for aspirants like us to look into our strengths and weaknesses. Besides, it ensures a transparent selection process which again most of the freshers suffer. I would, therefore, recommend it to all my peers who are struggling on this front."
All the best
Get in touch!