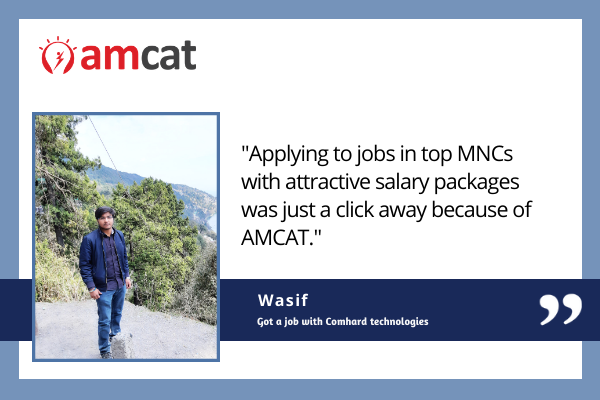 Everyone freshers hope and pray to start their career with a reputed and renowned company and having an attractive salary package is a cherry on top. And, just like others, Wasif had the same dream and was able to fulfil his wish with the AMCAT exam. The AMCAT exam brings a plethora of opportunities for you to kickstart your career. Plus, it is both efficient and effective.
Don't believe us? Read the testimonial to find out about Wasif's journey with AMCAT.
Why did you opt for AMCAT?
Wasif opted for the AMCAT because " AMCAT gives students a chance to apply to job opportunities outside of Campus Placement."
With your AMCAT score, you can apply to as many job opportunities as your heart desires with no extra charges. Moreover, you can either wait for the companies to contact you or you can apply to job openings on the AMCAT job portal on your own.
While looking for a job, did you face any difficulties?
Wasif's job search experience was "convenient" because of the AMCAT exam. He further adds, "Applying to jobs in top MNCs with attractive salary packages was just a click away because of AMCAT."
Well, we always try our best to make your job search experience less tiring and more productive.
To grab the opportunities, all Waif had to do was to upload his job resume for initial shortlisting and the rest was done by his good performance which was reflected in the AMCAT assessment.
Moreover, Wasif received an interview call for the job role of a Business development executive post by Comhard technologies. And, in Wasif's word, "I was easily able to convert the interview call into a job offer with the proper assistance from the AMCAT".
How did the AMCAT feedback report help you assess your performance?
The AMCAT feedback report helped Wasif in realizing which job roles are suitable for him as per his skill-set. Plus, it also helped him in assessing skills and personality attributes.
The 14-page feedback report made Wasif see his true capabilities and abilities. This is turn helped him lookout for the ideal job as per his skills
Would you recommend AMCAT to others?
"Yes," says Wasif
"AMCAT is a great platform, which makes job hunting in top MNCs easier. Moreover, It is economically viable because we don't have to pay for applying to different companies."
AMCAT is a pocket-friendly tool which will make the job search experience less stressful. And, on top of that, many big MNCs use AMCAT to shortlist candidates for multiple job roles. Plus, all these job opportunities are AMCAT exclusive. Hence, more opportunities and less competition.
So, don't waste any more time and schedule your AMCAT exam.