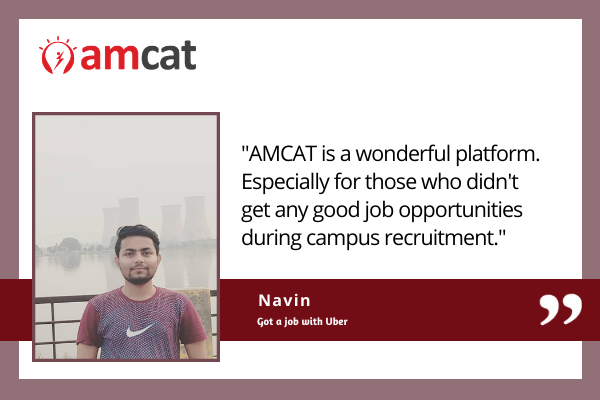 The AMCAT exam provides candidate a platform to not only validate their skill-set and readiness to face challenges but also, to show the recruiter that you are more than your academic track record. Rather than focusing on your academics, AMCAT put your skills into the limelight. Now, this helps the recruiter in understanding your calibre and potential. Navin is an AMCAT aspirant who successfully bagged the opportunity to work with Uber India.
Let's find out what Navin has to say about his AMCAT journey.
Why did you opt for AMCAT?
Navin says that his reason for opting for the AMCAT exam was that it gives the candidates a unique platform to start their job search which you don't expect from other online platforms.
While looking for a job, did you face any difficulties?
Navin says, "My experience with AMCAT was a cakewalk. It was mind-blowing."
The purpose of the AMCAT exam is to make your job search experience seamless and to get you job opportunities based on your skills and abilities. And according to Navin's experience with the AMCAT, we believe we are fulfiling our purpose.
He further adds, "I am very lucky to get a job with Uber India. In fact, I was on top of the world when I learnt about it. I am grateful for AMCAT and its team for helping me."
It warms our heart that your journey with AMCAT was so great. And, the credit for your success goes to you and your hard work.
How did the AMCAT feedback report help you assess your performance?
"AMCAT feedback report helped me identify my basic mistakes and helped me rectify them which in turn, get me the job."
The AMCAT assessment report show Navin the areas where he lacks. And kudos to Navin for taking it seriously and working on improving his current skills and shortcomings. All this helped him in bagging the job of his dreams.
Would you recommend AMCAT to others?
"Yes. AMCAT is a wonderful platform. Especially for those who didn't get any good job opportunities during campus recruitment."
Just like Navin, even you can get an amazing work opportunity when campus placements disappoint you. So, don't wait for the opportunities to knock on your door and schedule your AMCAT exam to open the room full of interview calls based on your skills and interest.
Apply Now!