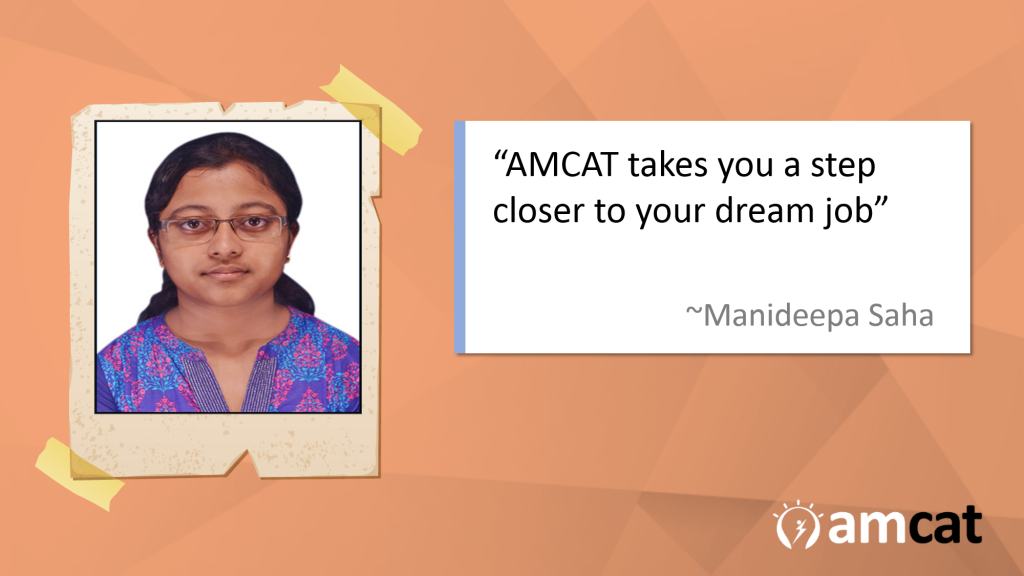 Meet Manideepa, a fresh graduate from Dream Institute of Technology and know how she managed to kick-start her career straight out of college just by giving AMCAT.
Q: Tell us something about yourself and your career goals.
Manideepa: Hi, My name is Manideepa Saha and I have done B.Tech in Electronics and communication Engineering. I am an optimistic, goal oriented and hard working person. My aim is to be a successful person in the corporate sector.
Q: What difficulties did you face while searching for a job and how did you overcome those difficulties?
It was very difficult for me to find a suitable job. So, I took AMCAT and got a number of job offers.
Q: How long did it take to get your 1st interview call after AMCAT?
3 to 4 months.

Q: Tell us about your experience post giving the AMCAT test and how AMCAT helped you in getting the job at Accenture?
AMCAT was quite interesting. A standard level of questions was required to be answered in specific time limits. I was shortlisted for Accenture through AMCAT and eventually cleared the interview.
Aspiring Minds: Would you suggest other job seekers to take AMCAT? If yes, why.
Yes, I would suggest other job seekers to take the test as it is quite helpful to find a suitable job through AMCAT.
Q: Would you like to share some tips which can help other job seekers in getting a good job?
Short and simple, take AMCAT. It would help you in finding many opportunities in a short span of time with fewer efforts.
Enthused by Manideepa's success? She is not the only one, read more of our success stories and know how AMCAT took them a step closer to their dream job.