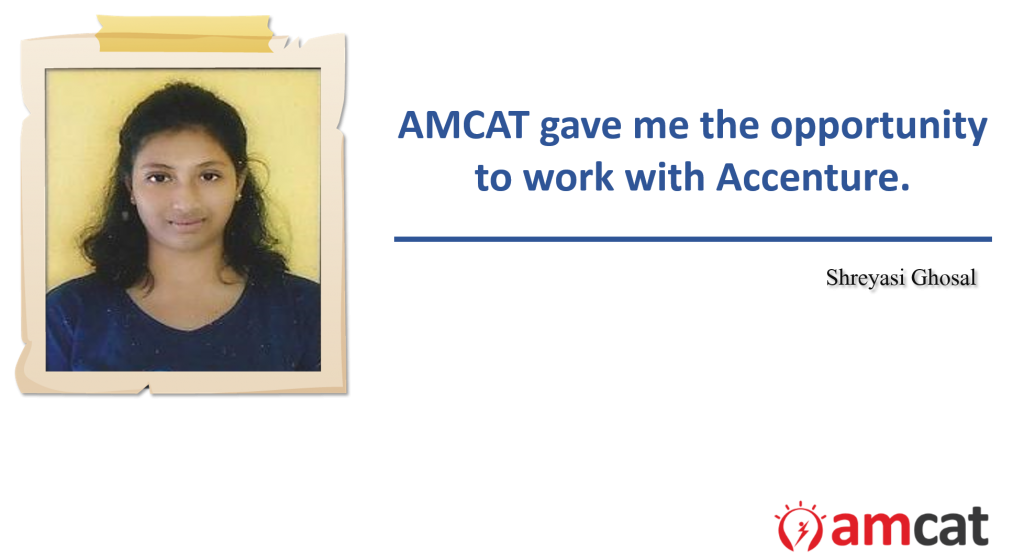 Meet Shreyasi Ghosal, a fresh graduate from the Maulana Abul Kalam Azad University of Technology and know how she managed to kick-start her career straight out of college just by giving AMCAT.
Q: Tell us something about yourself and your career goals.
Hi! My name is Shreyasi Ghosal and I am from West Bengal. I have done B.Tech in Electrical Engineering from Maulana Abul Kalam Azad University of Technology (formerly WBUT).
I want to be associated with a top notch MNC.
"I was not cHannelizing my applications to the right sources."
Q: What difficulties did you face while searching for a job and how did you overcome those difficulties?
I was not channelizing my applications to the right resources/people. Perhaps there were some issues due to which my application got lost midway. Then I found AMCAT which helped me get a job at Accenture.
Q: Tell us about your experience post giving the AMCAT test and how AMCAT helped you in getting the job at Accenture?
I was a bit stressed out after taking AMCAT test thinking whether AMCAT would really provide me with good job opportunities but after getting a mail for an interview with Accenture, I was really contended.
Q: How many interview calls did you get after taking the AMCAT?
Probably 4
Q: Would you suggest other job seekers to take AMCAT? If yes, why.
Definitely. I will suggest all my friends and juniors to take AMCAT. AMCAT is a wonderful source to get connected with really good companies. AMCAT is 'THE' test, especially for the freshers.
Q: Would you like to share some tips which can help other job seekers in getting a good job?
Go for AMCAT without having any second thought.
Enthused by Shreyasi's success? She is not the only one, read more of our success stories and know how AMCAT brought them a step closer to their dream job.