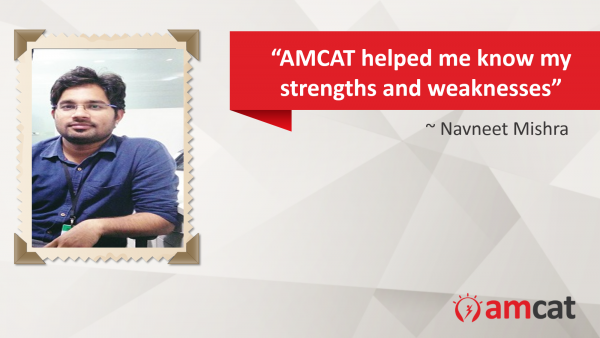 Meet Navneet Mishra, a graduate from Shri Ram Murti Smarak College of Engineering & Technology and know how he managed to kick-start his career just by giving AMCAT.
Q: Tell us something about yourself and your career goals.
Hi, My name is Navneet Mishra and I am from Varanasi. My goal is to work in a reputed MNC.
Q: What difficulties did you face while searching for a job and how did you overcome those difficulties?
I came to Bangalore to get a good job but it turned out to be very difficult. I gave many interviews but hardly got anything.
Q: Tell us about your experience post giving the AMCAT test and how AMCAT helped you in getting the job at Accenture?
AMCAT is a versatile test, it includes questions from almost all parts i.e. aptitude, reasoning, core subjects, English. I got to know my strengths and weaknesses through AMCAT. It helped me a lot to get a good job.
Q: Would you suggest whether other job seekers should take the AMCAT? If yes, why.
Yes, It is the best way to filter yourself from the crowd.
Q: Would you like to share some tips which can help other job seekers in getting a good job?
Crack AMCAT with a good score. It will definitely enhance your chances of getting a job in a reputed MNC.
Enthused by Navneet's success? He is not the only one, read more of our success stories and know how AMCAT brought them a step closer to their dream job.