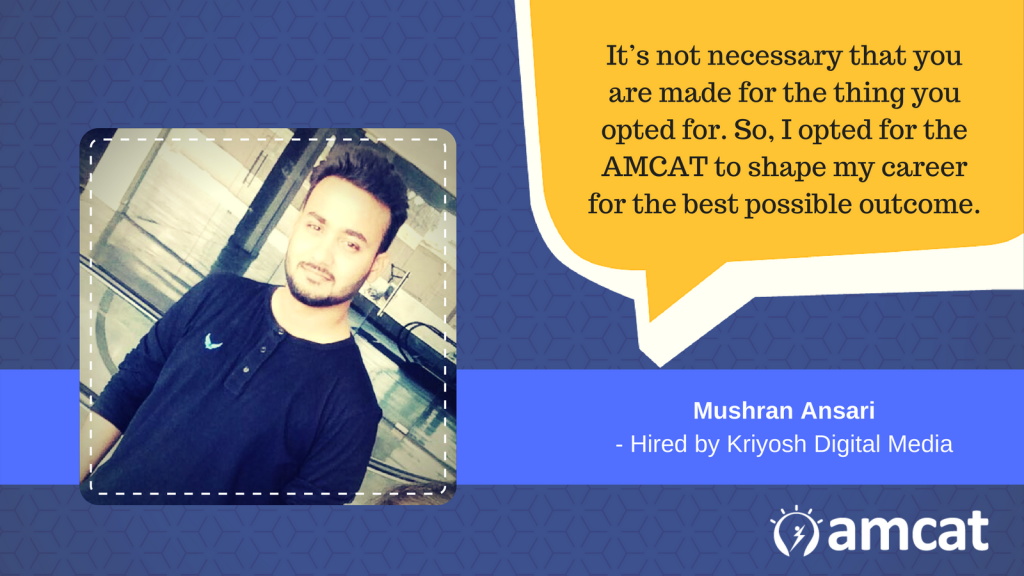 He calls himself the Computer Science graduate who was not very keen on hardcore computer coding. Mushran Ansari was more keen on social media – even looking for a role in a social IT company, amid jobs available for freshers. And that's what he found with the AMCAT Test. This is his story.
I took the AMCAT because it helps to you to get a job that you desire for.
"It's not necessary that you are made for the thing that you opted for. I had opted for the AMCAT Test to shape my career with the best possible career outcome", said Ansari, a graduate from the GLA University.
We asked him to talk about his AMCAT test experience. He called it a basic exercise, with moderate type of questions. "No in-depth knowledge is required — an average student can also solve these queries, provided they have gone through the basics."
Looking for fresher jobs, Ansari did not have to wait long to wait for his first interview call. He got it within 15-20 days. His dream job, however, after clearing three consecutive rounds with Kriyosh Digital media, which hired him for one of the jobs available with them.
How was the interview process with Kriyosh Digital Media?
"The first round was essay writing which lasts for 15 minutes. Those who clear the written move further for GD and then shortlisted candidates move towards final PI round. As I know Kriyosh is working with Digital Marketing so I prepare with the latest trends and technologies regarding digital marketing."
Would he recommend the AMCAT to others?
I would like to recommend AMCAT to others as it gives you the best possible job available in the industry.
In the end, as an AMCAT achiever, we wanted to know if he had any jobs available for other job seekers. This is what he had to say:
1. Go through the core subjects of your course.
2. Have an overview about the company you are interviewing for and their working areas.
3. Go through Quants, Reasoning and English topics with strictly focusing on the basics.
Congratulations, Mushran – for clearing the AMCAT Test and finding a role suited to your liking and preferences. We hope you have a smooth run through with your chosen company. And we hope that as a reader you were able to find thoughts to chew on for your own job search. Catch the AMCAT achievers section every week to find more of such testimonial tales. Or consider creating your own – by scheduling an AMCAT test for yourself today.