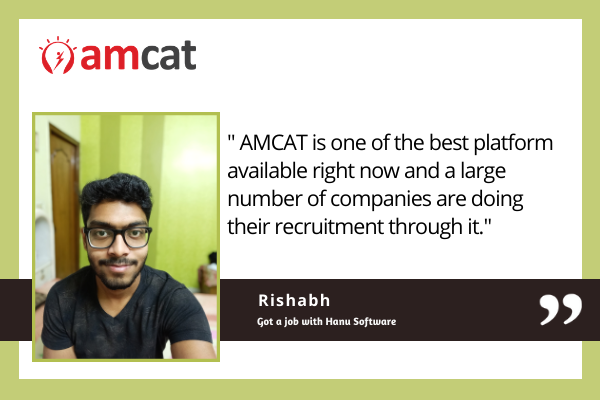 AMCAT exam is more than an employability test, it is also, a test of skills and job readiness. Moreover, AMCAT helps you get a better understanding of both your weaknesses and strengths. Knowing your weaker areas will help you master them. Whereas, knowing your strengths will help you chose the right career path. Moreover, AMCAT makes applying for multiple jobs easier and efficient.
One such example is Rishabh who not only chose AMCAT but also, recommends it to other candidates. So, let's find out the reason for this.
Why did you opt for AMCAT?
Rishabh's reason for opting for the AMCAT exam was the easiness of applying to multiple job roles in renowned organisations.
According to him, "My reason for choosing the AMCAT exam was that after getting your AMCAT score, you can apply to many reputed companies."
The AMCAT score is generally announced within 24 hours of taking the exam. So, you can start applying for jobs as soon as possible.
While looking for a job, did you face any difficulties?
Looking for a job based on your skill-set and job readiness can be both tiring and difficult. However, AMCAT makes job search experience much easier and less stressful.
When asked about his job search experience, Rishabh said, " My experience when looking for a job was not at all difficult."
He further adds, " I received many job offers based on my AMCAT exam from companies like Cognizant and Wipro. But I job I choose is for the post of cloud support executive for a company called HANU."
How did the AMCAT feedback report help you assess your performance?
The AMCAT feedback report is made to help you assess both your strengths and weaknesses. Now, knowing those will help you in improving your overall performance.
This, in turn, will help you bag the job of your dreams just like Rishabh.
He said, " I was able to improve my performance for future tests which helped me in getting the final call letter for the job."
Would you recommend AMCAT to others?
"Yes, I would recommend AMCAT", says Rishabh.
He adds, " AMCAT is one of the best platform available right now and a large number of companies are doing their recruitment through it."
AMCAT is always thriving to get you your dream job and make your job search experience difficulty-free. Moreover, the job opportunities that you will get will be based upon your skills and readiness to face corporate challenges.
All this will not only help you in becoming an ideal candidate but will also, improve your future performance. Therefore, to take your career to a new height, schedule your AMCAT exam right away and give wings to your dreams.