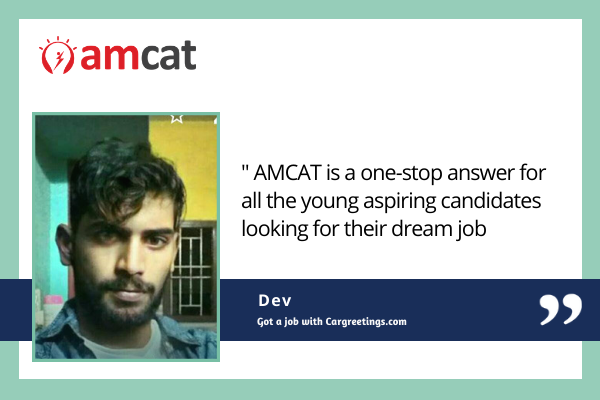 AMCAT exam focuses more on your practical knowledge than theoretical knowledge which not only highlights your job skills but also, makes you stand out from the crowd. Moreover, focusing on your skills will open more job opportunities for you in different fields.
Dev got a job in cargreetings.com based purely on his skills and job readiness. Also, he was able to explore multiple job opportunities in different organisations and diverse work roles. So, let's find out about his whole experience with AMCAT and whether he recommends it or not.
Why did you opt for AMCAT?
AMCAT exam helped Dev understand that he doesn't need to restrict his job options to one particular field of work. He should apply to multiple job openings based upon his skills.
He also talks about how "AMCAT provided me with diverse job opportunities from different domains and companies."
AMCAT is an exam of skills and job-readiness. And, as long as you have the required skill-set, you can apply to multiple job openings in different renowned companies.
While looking for a job, did you face any difficulties?
Through AMCAT, Dev was able to score the job position of Assistant Manager in cargreetings.com, an automotive company. He says, " The soft skills provided by the AMCAT helped me cracked the interview and get the job."
Moreover, he further adds, " Even before I got the job, I received several interview calls from various diverse companies such as IT, Consulting, etc."
How did the AMCAT feedback report help you assess your performance?
Dev's experience with the AMCAT Feedback reports was positive and learning. The Feedback report proved to be a difference-maker for him.
AMCAT has provided me with a "genuine feedback" which helped me rectify my mistakes and improve the areas where I lack.
Would you recommend AMCAT to others?
" Yes. AMCAT is a one-stop answer for all the young aspiring candidates looking for their dream job."
He adds, " It also allows exploring different fields of work in diverse companies. Especially if you are looking for a job change or trying to get your dream job."
Dev used his AMCAT exam to explore new work territories and came out with a job in his back pocket. And, if Dev can do all this then so can you. Schedule your AMCAT exam and give yourself a chance to get exposure to new domains.
Best of luck!