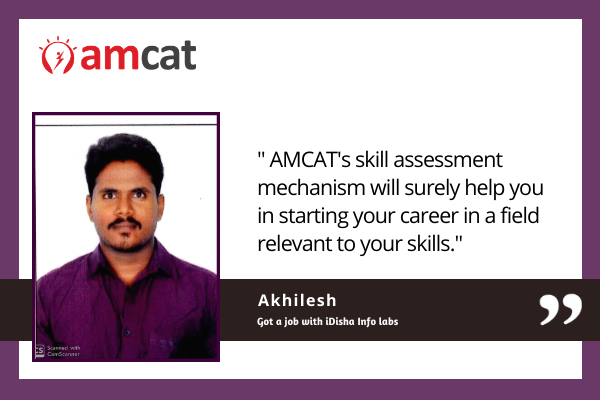 Starting your career with your dream job is a wish of many candidates. And given the current job scenario in India, fulfilling this wish is getting tougher and tougher. However, you have a chance to make your wish come true with the AMCAT exam. All you have to do is get a good score in your AMCAT exam and no opportunity will be out of your reach.
This is how Akhilesh got many interview calls after giving the AMCAT exam. And, not just that, AMCAT made his job search experience easy breezy. So, read on to find out about Akhilesh's experience with the AMCAT exam and why he recommends it.
Why did you opt for the AMCAT Exam? 
AMCAT is an employability exam which asses you on your skills and readiness to shoulder responsibilities associated with the job role. And, as per Akhilesh, AMCAT met the expectations.
According to Akhilesh, " AMCAT is a great platform for freshers to start their career."
He further added that " Because of AMCAT exam, I got a lot of interview calls based upon my abilities and skills."
While looking for a job, did you face any difficulties? 
For Akhilesh, his job search experience was a smooth sailing. Plus, he got a number of job opportunities through AMCAT. He adds, " There is nothing I can complain about. My search experience was great."
We are really happy that you got multiple interviews calls to choose from and that your AMCAT experience was near perfect. All this motivates us to work harder.
Moreover, Akhilesh got an interview call from ' iDISHA Info Labs Pvt' and even got selected for the job role.
He said, " Even after getting selected, I received many interview calls through the AMCAT exam which was great."
How did the AMCAT feedback report help you assess your performance?
AMCAT feedback report gives you an in-depth insight into your strengths and weaknesses. This helps you in improving your overall chances of bagging the best job as per your skills and job readiness.
And, Akhilesh back this up by saying, " AMCAT feedback report helped me in improving my performance in the sections where I was lacking."
Would you recommend AMCAT to others?
" Yes, I would recommend AMCAT", says Akhilesh
He further says, " Not only AMCAT is a good platform for freshers but it also, help you in improving your overall performance. AMCAT's skill assessment mechanism will surely help you in starting your career in a field relevant to your skills."
According to Akhilesh, AMCAT is the best bet if you want to start your career with your dream job based on your skills and readiness. Moreover, many companies are recruiting through the AMCAT exam and all these job opportunities are AMCAT exclusive.
So, to back pocket your dream job, schedule your AMCAT exam right away.