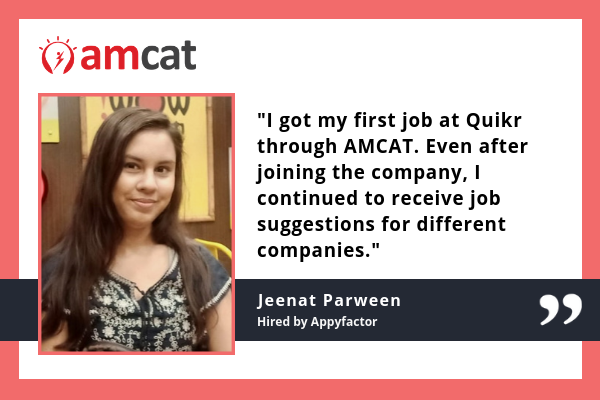 The AMCAT exam has helped numerous people find their dream job. And, one of such successful candidates is Jeenat Parween. Jeenat found not one or two but many jobs through AMCAT.
Let's see what her success journey composes of and what she has to say about the whole process.
Why did you opt for the AMCAT exam? 
Jeenat first got to know about the AMCAT exam through one of her friends. She says,
I heard about it through one of my friends. His experience with AMCAT was pretty good. So, I decided to give it a try as I had not found much success during the campus placements.
Tell us about the job you got through the AMCAT exam
"I got my first job at Quikr through AMCAT. Even after joining the company, I continued to receive job suggestions for different companies."
"I got interview calls from many companies. Some of them were, Stay Abode, iEnergizer, Aspiring Minds, QAI Global, Multigraphics Groups, UBER and Appyfactor. I also got selected in 3-4 such companies."
"I am currently with Appyfactor."
How was your overall AMCAT experience? 
"Before taking the AMCAT exam, I had so many questions in mind about how it works, what is the validity period, how to write the exam and what about the syllabus?"
"I decided to chat with the support team regarding my queries and they gave me a callback and explained everything."
"Last month, my AMCAT subscription was about to end. So, I again took the help of the support team and they clarified things for me. So, my overall experience with AMCAT was pretty cool."
Did you face any difficulties while looking for a job with AMCAT?
"Never ever!" says Jeenat.
"I never faced any problem while using the AMCAT website. All the companies that were mentioned on the website were quite descriptive. I got all the details about the job, like the job profile, work description, about the company and the salary being offered. Sometimes I could even access the contact number of the recruiter."
Would you recommend the AMCAT exam to others? Why?
"Yes, I will recommend AMCAT to others", says Jeenat. She further adds that,
"You get so many opportunities through AMCAT. Not just that, they also provide job assistance, such as, they help you in perfecting your job resume according to the desired job profile and help you bag attractive salary packages."
The AMCAT exam, as proven by Jeenat, can be a perfect platform for you to kick-start your career and court success. And, much like Jeenat has written her success story through AMCAT, so can you. Just schedule your AMCAT and start applying to the best jobs available.