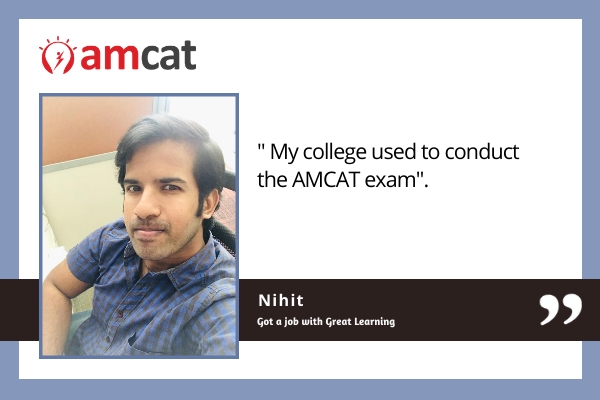 AMCAT exam is an employability assessment exam which judges you on your skills. It also gives you a detailed feedback report on your strengths and weaknesses which will help you find the right kind of job as per your skill-set.
Due to this, nowadays a lot of colleges and institutions are trying to make it compulsory for their students to take the AMCAT exam, especially in their last year. This initiative helped a lot of students like Nihit in securing job offers from various reputable firms.,
So, let's find out how conducting AMCAT exam in Colleges help students like Nihit in securing jobs.
Why did you opt for AMCAT Exam,? And, how was your experience?
"When I was pursuing my bachelors there they used to conduct the AMCAT exam".
Many colleges and institutions are making it mandatory for their students to take the AMCAT exam. The main reason is that the AMCAT exam evaluates you on your skill-set rather than on your theoretical knowledge.
"My experience was good".
"Through the whole process, I faced no difficulty. The website was not very complicated as compared to others".
Well, we always try to provide a seamless experience to our users.
Did you renew your subscription?   
"Yes"
After renewing his subscription, Nihit got a lot of mails for jobs.
According to him, "The membership packages are affordable and AMCAT is very user-friendly".
We try out best to make the AMCAT exam accessible to everyone. Hence, almost all of our products are affordable.
Would you recommend AMCAT to others?
"Yes, I  would recommend AMCAT to others", says Nihit.
He further adds, "The job profiles are good and many good companies like UBER, Cognizant hires through AMCAT."
A lot of renowned companies hires exclusively through the AMCAT and for multiple profiles.
Nihit by renewing his membership choose to continue his journey with us and showcase the spirit of always thriving for the best.
So, now is the time to renew your AMCAT subscription if you haven't already or you can always get a new AMCAT subscription.