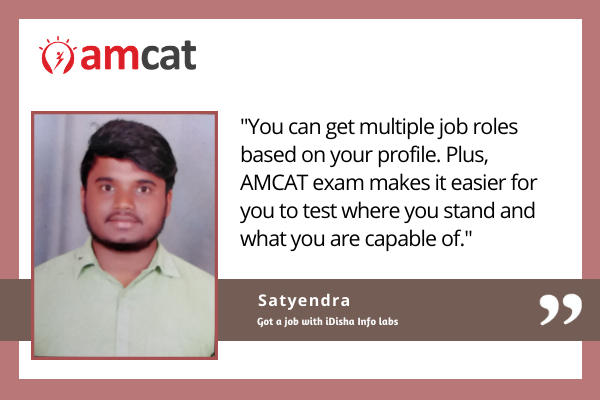 The idea behind designing the AMCAT exam was to help both the recruiter and the job seeker to come together under one roof. Hence, in the exam, you are evaluated on your employability skills such as written communication, logical reasoning and more. Moreover, you also get the choice to choose at least two optional modules. The optional modules can be chosen based on your educational qualification and area of interest.
All this helps you chose the right job profile based on your skills and readiness to face challenges. In addition to that, with your AMCAT score, you can start applying to as many jobs as you want on the AMCAT job portal and kickstart your career in a field relevant to your profile just like how Satyendra did.
So, let's find out how Satyendra utilized AMCAT to the fullest and successfully took his career to new heights
Why did you opt for AMCAT?
Just like everyone, Satyendra wanted a job role that will complement his profile and give him an ample amount of opportunities to grow and learn.  Moreover, many colleges make their students take the AMCAT exam.
And that is exactly what happened with Satyendra. His placement officer suggestion AMCAT to him because the AMCAT exam will make him employable and will increase his chances of getting the job of his dreams.
While looking for a job, did you face any difficulties?
According to Satyendra, "I didn't face any difficulty in finding the right job for me".
He further adds, " In fact, every other day, I used to receive interview calls".
After giving the exam and getting your score, you can either wait for the recruiter to contact you or you can apply for jobs on the AMCAT job portal on your own. And, guess what? All these job profiles are AMCAT exclusive.
Would you recommend AMCAT to others?
"I have already recommended AMCAT to others", says Satyendra
"You can get multiple job roles based on your profile. Plus, AMCAT exam makes it easier for you to test where you stand and what you are capable of."
Now, just like Satyendra, you can also get a number of job opportunities to choose from. Moreover, with AMCAT you also get a chance to turn your weakness into strengths with the help of AMCAT feedback report.
So, what are you waiting for? Book your AMCAT exam and start gearing up for the opportunities coming your way.
Best of luck!