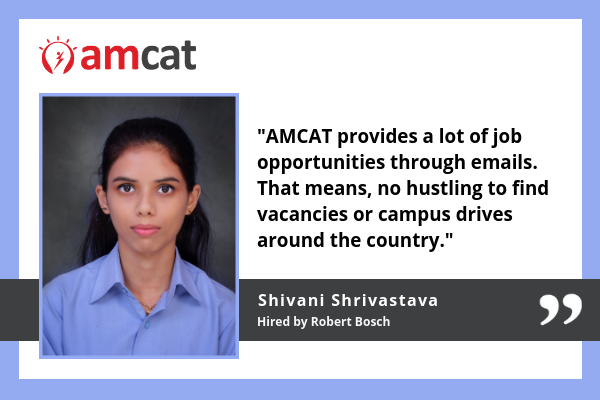 It is often believed that job search can be hard for freshers. They don't have the experience or expertise to get good jobs. However, with the AMCAT exam, that is far from true.
AMCAT makes job search and finding a good job, easy. And that is exactly what Shivani found out when she put her trust in the AMCAT exam.
Why did you opt for the AMCAT exam? 
Shivani says that she opted for the AMCAT exam because "I got to know that big companies from various domains hire fresher through AMCAT. So, I decided to opt for it."
And, Shivani's decision paid her off well as she got numerous job offers through AMCAT.
Tell us about the job you got through AMCAT
"I got selected in Robert Bosch through the AMCAT exam. I was also shortlisted for a lot of other companies like MindTree and AMDOCS."
Packages for which I got shortlisted ranges from 1.8 LPA to 12 LPA.
WOW! That's impressive!
While looking for a job, did you face any difficulties? 
Shivani says that the "only difficulty I faced was travelling to different cities for interviews. But I don't really consider it a problem because it was required in order for me to get a good job."
Tell us about the AMCAT feedback report
"The AMCAT feedback report really helped me in improving my programming skills."
Shivani recalls how the first time she attempted the AMCAT exam, her programming skills were not up-to-the-mark. However, instead of letting it stand in her way to success, Shivani decided to do something about it. And the result is for all of us to see!
Would you recommend the AMCAT exam to others? Why?
"Yes", says Shivani. She further adds that, "it helps improve your skills and gives a detailed feedback report. This report talks about the profile you would be most suitable for and the area in which you need to improve."
"AMCAT also provides a lot of job opportunities through emails. That means, no hustling to find vacancies or campus drives around the country."
The AMCAT exam makes the whole job search process simpler and easier. And, you too can find your dream job and step up on the success ladder with it. Just schedule your AMCAT test right now, and send us your success story.