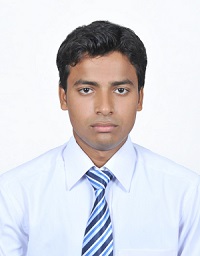 "Getting a job after giving the AMCAT became very easy for me. I am really thankful to AMCAT."
Trilochan Kumar Mahto, National Institute of Science and Technology, 2015 Batch
Aspiring Minds: Tell us something about yourself and your career goals.
Trilochan:  Hi, My name is Trilochan Kumar Mahto and I am from Bokaro Steel City, Jharkhand. I am a 2015 graduate from National Institute of Science and Technology. I am passionate about my life and enjoy whatever I do.
Aspiring Minds: What difficulties did you face while searching for a job and how did you overcome those difficulties?
Trilochan:  My college provided me multiple opportunities but due to low grades in class 12th, I was not eligible for those. Then, I decided to take AMCAT which helped me get a job that met my expectations.
Aspiring Minds: Tell us about your experience post giving the AMCAT test and how AMCAT helped you in getting the job at Your Practice Online India Pvt. Ltd.?
Trilochan:  My confidence level increased after taking AMCAT test. AMCAT's feedback report helped me understand about my weaknesses and strengths. Through the AMCAT score I got a direct interview call from Your Practice Online India Pvt. Ltd. Getting a job after giving the AMCAT became very easy for me. I am really thankful to AMCAT.
Aspiring Minds: Would you suggest other job seekers to take AMCAT? If yes, why
Trilochan:  Yes, definitely. It uncovers the areas where improvement is needed to crack the job interviews. Also, in certain cases makes us eligible for face to face interview instead of attending multiple selection rounds.
Aspiring Minds: Would you like to share some tips which can help other job seekers in getting a good job?
Trilochan:  I would suggest the job seekers to strengthen their core skill-set and practice logical questions. If you have knowledge and expertise in your specialized domain with good logical abilities, then no one can stop you from getting a job of your interest.