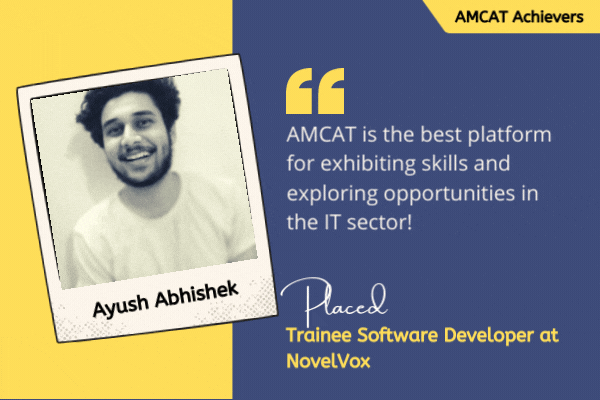 In this article, Ayush told us about his first job search, which he was able to achieve with the help of AMCAT. He described how the exam helped him in finding a suitable job. In the article, we have mentioned the entire interview with Ayush, in which he explained his hardships and the assistance he received from AMCAT.
What made you to choose AMCAT above the other options?
Ayush told us that he opted for AMCAT for reputed brand names, higher compensation, offers appropriate profiles, and has suitable job locations.
Tell us about the job you got through AMCAT?
Ayush told us that he got placed in NovelVox as a Trainee Software Developer with the help of AMCAT.
How did AMCAT help you in getting a job?
Ayush said that AMCAT offered a lot of opportunities, and he was ready to grab them to build my career.
Register for AMCAT | India's Leading Fresher's Assessment And Job Site (myamcat.com)
Did you have any issues in your job search? Please provide more details.
"Yes, it was very difficult to get shortlisted since I was facing the issue where my profile was not being shortlisted, told Ayush."
What role did the AMCAT feedback report play in the process?
"AMCAT feedback report helped me in identifying my weak points with the help of which I was able to implement changes and develop the relevant skills for better placement. Claimed Ayush."
Would you recommend AMCAT to others?
"Yes, Yes, I'll definitely recommend AMCAT to others, specially to all the freshers."
Why do you think AMCAT is a good pick?
"AMCAT provides a lot of job opportunities.
All the job openings are relevant.
Has an easy User Interface, concluded Ayush"
If you have any queries, feel free to get in touch with us.
We Wish You All The Best!