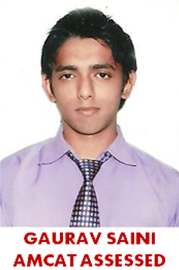 Yet another success story this week…
Aspiring Minds: Tell us something about yourself.
Gaurav: I am a software engineer, did my graduation from IEC College of Engineering & Technology and I am currently working at Redgrob.com as a Search Engine Optimizer. It's been 2 months working here – all because of AMCAT!
Aspiring Minds: How was your interview experience at Regrob.com?
Gaurav: I'd faced rejection from a couple of interviews before I appeared for Regrob.com, what was different this time was that I was well-prepared for the interview. It didn't took much effort to clear the written test and the final interview. I think it was my thorough preparation which got me through the job.

Aspiring Minds: Why did you decide to take AMCAT?
Gaurav: I'd given other placement tests as well, but I must say that I took AMCAT at the right time! I've got not just one but quite a few job opportunities through it, and the best part has been that AMCAT provided me an opportunity to earn more and learn more. I had been selected for an I.T firm through campus placement, but till date haven't received the joining letter.
Aspiring Minds: Any message you would like to share with the future AMCAT test takers?
Gaurav: There have been numerous times when you feel that things aren't working your way – I'd got my set of disappointments initially. Like I said, each time I used to clear the written test, but could not make it through the interviews. Rather than getting disheartened by our initial struggles and failures, we should work more seriously to achieve our goal. This is the most important factor that makes a difference!
Gaurav Saini
IEC College of Engineering & Technology, 2012 Batch
Hire by Regrob.com
Click here to read Success stories of AMCAT takers! Read how more than 80,000 AMCAT-assessed candidates get interview calls each month: click here