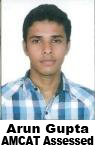 Aspiring Minds: Tell us something about yourself and your career goals.
Arun: I am a simple fun loving person and doing B.Tech wasn't my obsession but I chose it just for the sake of being an engineer and having some reputation but when I started my B.Tech I got to know that it wasn't just another career option but it is something bigger than that as engineering gives you opportunity to learn while you are working in an organization. So my primary goal was to be an engineer and I have successfully achieved it and now my goal is to be a part of organization which gives me opportunity to attain knowledge and help me to be a successful person.
Aspiring Minds: What difficulties did you face while searching for a job and how did you overcame those difficulties?
Arun: Less opportunities in campus recruitment was a major problem in seeking a desired job but that problem got solved by taking AMCAT assessment exam and I got a lot of opportunities to apply for different companies through AMCAT.
Aspiring Minds: Tell us about your experience post giving the AMCAT test and how AMCAT helped you in getting the job at BeSpoke Digital Media?
Arun: Before AMCAT I was tense regarding my career because I knew that not much chances I am going to get for campus recruitment but after giving AMCAT I got many opportunities to fulfill my dream and finally I got a job in BeSpoke Digital Media.
Aspiring Minds: Would you suggest other job seekers to take AMCAT? If yes, why
Arun: AMCAT will provide many chances to a fresher to start his/her career and number of opportunities will be much larger as compared to campus recruitment. If someone really deserves than that person would definitely get a job through AMCAT. So, I would definitely suggest everyone to take AMCAT.
Aspiring Minds: Would you like to share some tips which can help other job seekers in getting a good job?
Arun: Job seeker should have a good reasoning and quantitative aptitude to clear first round and for rest of the process the job seeker should master in one of the field for example a programming language like java, .net etc.
Arun Kumar Gupta, Krishna Engineering College, Ghaziabad, 2013 batch
Hired by BeSpoke Digital Media