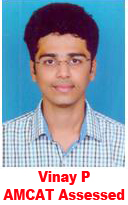 Aspiring Minds: Tell us something about yourself.
Vinay: First of all, I would like to thank AMCAT for supporting me in getting this job and for sending me so many other opportunities earlier as well. I am a final year Engineering student from APS College of Engineering, Bangalore.
Aspiring Minds: How did you got to know about AMCAT, when did you decide to appear for the same?
Vinay: One of my senior, who got placed through AMCAT, told me about the AMCAT test and its benefits. He suggested me to take the AMCAT test and told me that I will be receiving the job opportunities from AMCAT. So I decided to take AMCAT around 3 months back after which I started receiving various interview calls.
Aspiring Minds: Tell us about the interview experience 
Vinay: I was little nervous about the interview but the interviewers were very cool and made me comfortable. The interview was more of HR interview with less technical questions. Overall, the interview experience was quite good.
Aspiring Minds: Would you like to share some tips with the fellow AMCAT takers.
Vinay: I am very happy with AMCAT and would recommend others to the take the test. I would definitely suggest my friends and encourage my juniors to take AMCAT
Vinay P, APS College of Engineering, Bangalore, 2013 batch